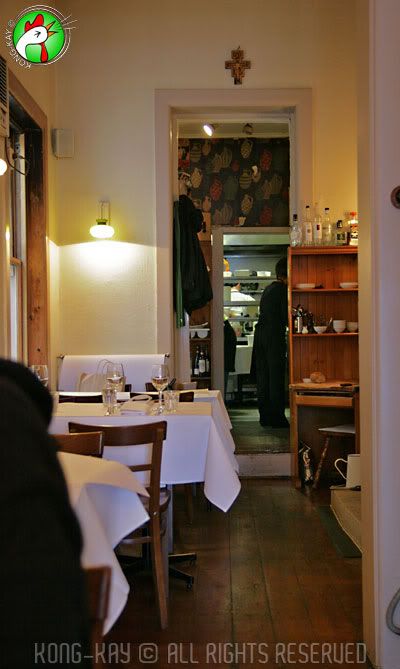 After a brief walk around Prahran Market, we found ourselves pounding the Street of Chapel - window browsing mostly, and were on the lookout for a place for lunch. We called ahead to place a reservation, when we were barely 5 minutes away, and the place was almost empty, saved for one lone occupied table at the back.


This is a very long and narrow restaurant which can only squeeze in 7 tables, tops. It specializes in Sardinian cuisine, and there's no printed menu - just handwritten one on a clip-on pad with no more than 10 items of whatever is good for the day, and it's all Italian sounding names with no description. I bet, this is the only menu that has been doing the rounds.

The lone waitress ran by the whole itinerary for lunch, and then brought us own-baked sourdough with first pressed virgin oil, and refills later while we waited for the food to arrive. We had four orders to be shared among the 4 of us.


We started off with the

Antipastini Misti,

which consisted of small appetizers of games, seafood and a bit of salad to get the appetite going. Chauvinistic Chinese will probably be foaming in the mouth in denial that Italians do eat some funky stuff (also the pasta myth). The tongue was good and not gamy at all, and just like ordinary meat. If you appreciate pig's tongue, this one had a different feel and texture.

The antipasto dishes were delivered, not all in one swoop, but one after the other once we finished them up. The fish was fresh off the grill when brought to the table; tasted a bit like the local

Pak-Hu-K'nia

. However, the octopus was a cold dish that was nicely marinated in olive oil and green onions. The other two cold salads had contrasting flavors: the cumin lent a strong flavor to an otherwise bland cauliflower, the capsicum just needed a bit of the basil to
bring its
sharp, sweet taste together
.


Venison's Tongue With Mixed Herbs
Grilled Whitings (left) & Grilled Octopus (Right)


Cauliflower With Cumin Mix (left) & Grilled Capsicum With Basil (Right)

This lightly butter tossed pipi pasta gradually eased our way towards...


... a heavier and nicely braised meat sitting on a layer of cornmeal, which is reminiscent of a bourguinon.



The next one is a faux pas in the order, which was rectified without so much of a fuss.
A quail, pork sausages and lamb - all grilled with chutney accompaniment wound up a long 2 hour lunch on a Saturday afternoon. It's a rarity in a place where they let you enjoy and have the food sink in, before they serve the next one. It was almost 3 when we were through. No one was in a rush close shop for the afternoon... it was like a lazy afternoon back in Sardinia.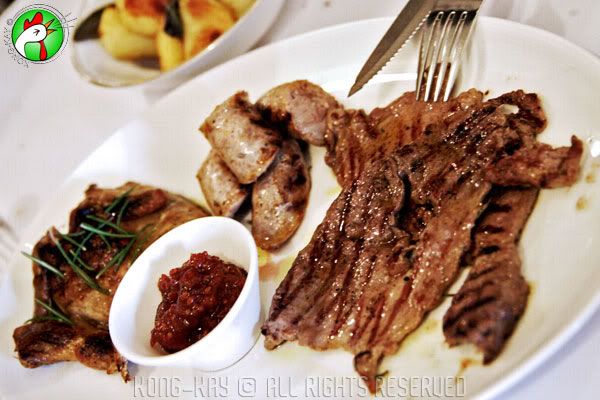 Grigliata Mista (Mixed Grill)