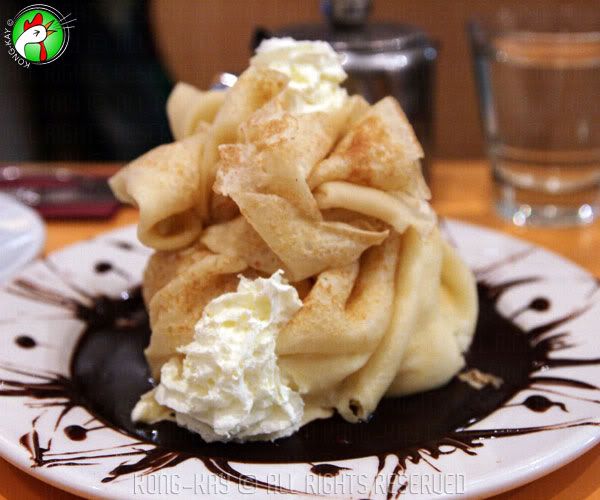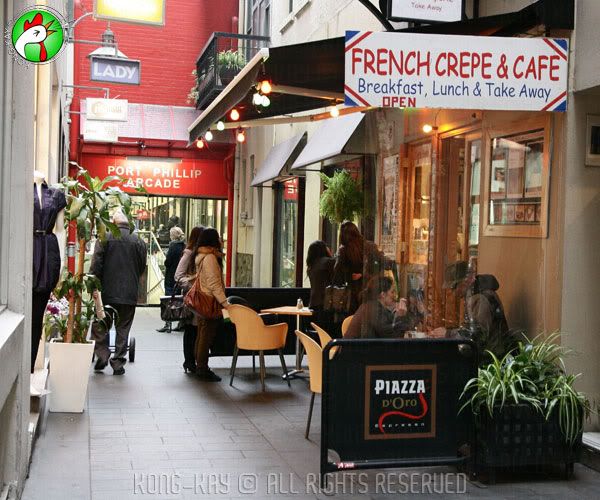 Initially this is not our first choice to have something to bite in the afternoon (a bit of that later). As my travel is winding down, a little bit of indulgence is called for. This particular lane is populated by cafes, and they are mostly packed. And those of you who are into "authenticity" (pft!), there are a couple of genuine articles behind the counter. Seating is limited to about 5 tables inside, and a couple out on the pavement on this piece of prime real estate.














It pays to study what they have to offer that is plastered on its entrance before entering, because the menu they present inside is non-pictorial; as the Korean from Melbourne U. and his visiting girlfriend from New Zealand marvel at our order, thinking we're regulars even though this is our first visit. The crepes can be had as sweet or savory.

We opt for the sweet;

Aumônière

(above) is like huge wonton, with Ice cream (Peter's) wrapped inside a crepe, endowed with whipped cream and it sits on a bed of hot chocolate whirl.


The other is
Des Iles flambée
; that's braised banana,
Flambée au Rhum
. (Only caught the tail-end of flame in the photo). Incidentally, Merdeka Palace, Kuching, serves these flambée crepes in its Italian restaurant. If you have a sweet tooth, what's there not to like!