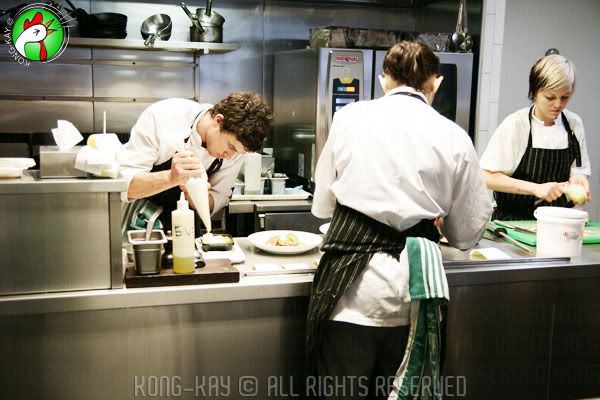 This is the last time I have to get up really early for breakfast. Luckily, breakfast starts at 9 a.m. on Saturdays, as opposed to 7 a.m. on weekdays. Before 10, queue starts forming at the door. This place serves lunch and dinner too.

Although the place has a big dining area, tables are closely knitted; any privacy afforded is non existence; more so if you're seated at the bar counter. In a way it helps if you speak Hokkien.

As its name implies, like some clouds, the breakfast offerings here vary from the seemingly mundane, like muesli, and toast & spreads, to the more spectacular... and that's what getting up early and excited, like on a X'mas morning, is all about!

Behind all those clouds
within its breakfast menu
, there's a silver lining hidden that brings Andrew McConnell's baby to the fore.

The baked eggs taste like any soft boiled eggs, but maybe something in between a poached and fried egg
; it's what beneath the eggs that makes this dish come into into its own. When you dunk the bread into the creamy egg yolk, it's pure eggstasy!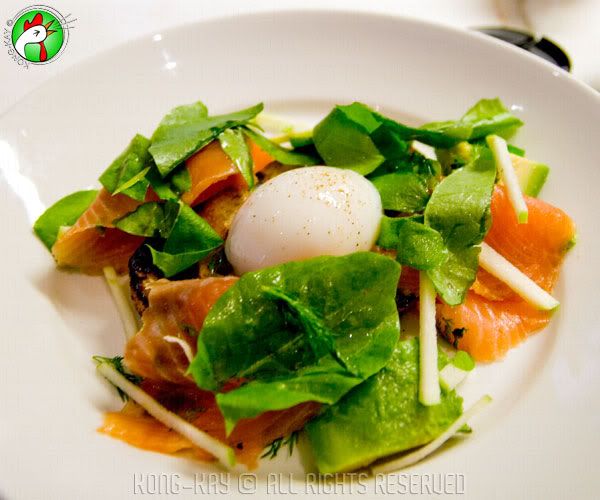 Tom Cooper's Smoked Salmon, 65/65 Egg, Sorrel, Apple & Dill


Tom Cooper may be some hot shot curer, but one should read too much into the salmon, after all anyone can incorporate it into a dish and come out smelling like roses

... or maybe not.
The thing to look out for in this dish is the figure 65/65. It refers to the state of the egg is cooked; at 65°C for 65 minutes - that's sous vide.

It's cracked open in the middle as you would on a normal egg. The egg pops out whole like a hard boiled egg, but not quite; notice the shimmery white at the bottom of the close-up.

The egg yolk is soft and moist, yet it holds up together. When I cut into the egg white (into bitable size), it melts like it's being cut by a hot knife, quivering into a soft boiled egg white. It's a marvel to experience the unexpected from a boiled egg.


... finally a tiny Canalé to finish off. This one is better than the one at Vue Café.