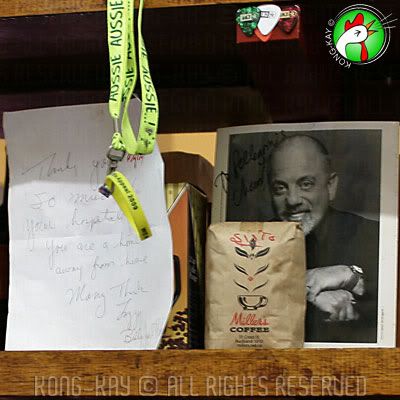 This coffee bar is practically a Melbourne's institution that is still true to its roots. If you demand authenticity, you can't get more authentic than this - just check out the people behind the counter. This bar is akin to the Malaysian Hainanese coffee shop that serves one mean coffee, and their noodle of choice is pasta.

In many ways, this place is like the Ang Lee's, Ming Heng's or even Loke Restaurant's - all

Lau Chio Pai

; all aficionados still clamoring for its coffee, pasta and minestrone soup that are served the old way. One such person who finds solace here is the piano man (who once married an uptown girl); his note and photo are displayed on the shelves behind the counter.



The food are are pre-cooked, and will be at the table 3 minutes from the moment you order; no less, dished out by mama of the house. All Drinks and food are listed on the brass plates slapped on a cross-section cut tree trunk, which is hung across the middle of the bar.

There is no false pretense on the food that is served here. Our lasagna comes with layers of cooked pasta skin topped with meat sauce and Mozzarella cheese, plus a slice of buttered bread on the side. Homey!
The Grenadine iced drink (below) is a non-alcoholic watermelon cocktail; a soothing drink after you down a shot of espresso. It's so refreshing we have 2, besides the coffee.
Coming here is like visiting a piece of nostalgia; same as the aforementioned
Lau Chio Pai
, the food is not that great, and the drinks may be the same as those elsewhere. Still the place is packed; you're biting into a piece of icon.