It's one of those nights that you purposely don't take out any items out from the freezer to be cooked for the night - an excuse to eat-out. The idea of Korean food is tossed around, but I'm apprehensive, but I'm assured that this one is different from the run-of-the-mill, so he says.

This is supposed to be simple light meal at one of the so-called better Korean restaurant in town. But what ends up at the table is more than two of us can polish them off. I think the problem starts off with the Korean pancake - the
Haemool Pajeon

. It's a simple flour-based batter with green onions, and capsicum thrown into the mix. It goes with the chilli paste/soy sauce dip. This seemingly harmless 9-incher is one heck of a bloater. It is the dish that has left-over!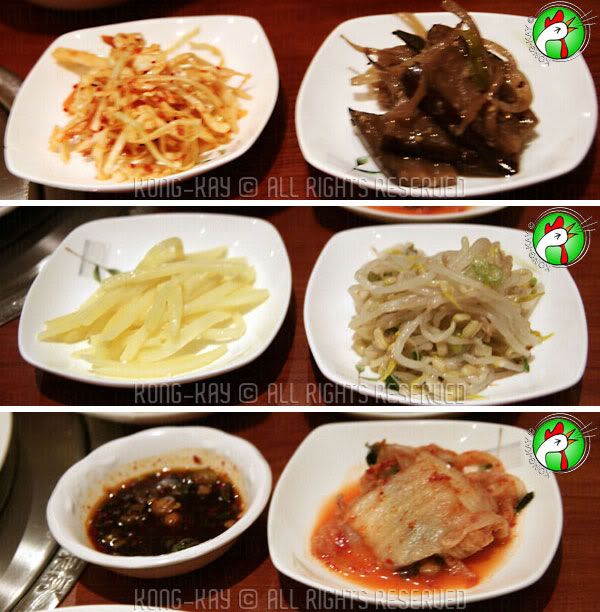 Those little saucers on the right are the ever-present complimentary side
, mostly pickled vegetables; they are

kimchi

, beansprouts,

daikon

, seaweed and cabbage. I think, they are supplementary to the vegetable intake for most of their meals, because the vegetables listed on the menu is scarce.

Our next item is the

Samgyeatang

- Korean Ginseng chicken soup. It tastes like ordinary chicken soup despite the presence of herbs. It doesn't have an overtly strong herbal feel of a Chinese herbal soup...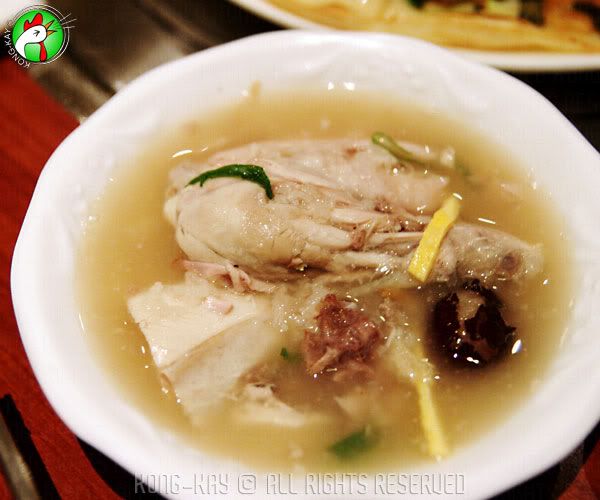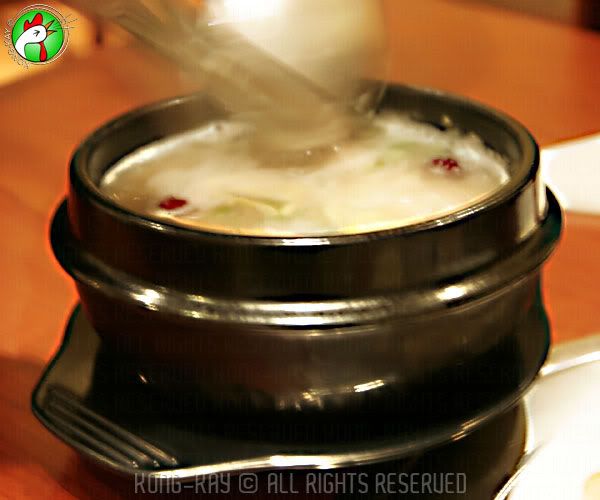 ... it's all very subtle. Also there are small morsels of barley-like rice at the bottom of the soup. It gives it a starchy sediment to the soup.

I don't know why the

Galbiggim

(below) is described as marinated Korean steamed spare ribs, because it feels like it has been braised until the meat almost falls off the bone. A very nice marinade that thoroughly permeates the meat.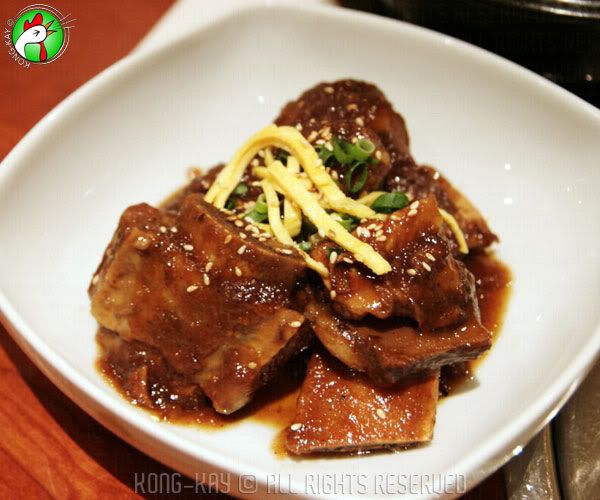 As we are paying the tab, I notice a photo of Nicholas Cage with an elderly Korean lady. I was told he had meals at the restaurant twice. I was doing Alex Proyas' movie, Knowing, in town last year. Incidently, this place is 2 shops down from Hu Tong Dumpling Bar; and in between them is a nightspot by the name of Ding Dong Lounge!