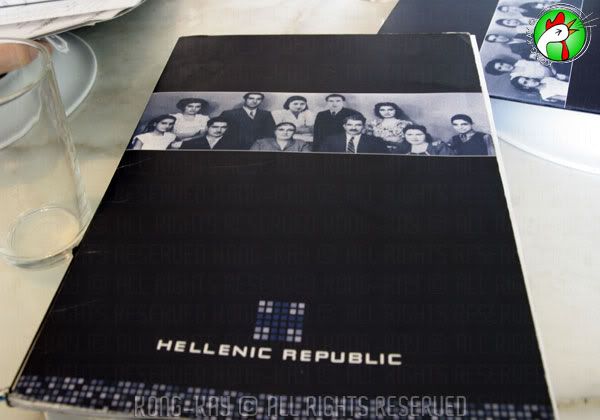 Those who have tuned in to MasterChef Australia would have known who George Calombarise is; he's one of the 3 judges, and happens to own a trio of restaurants -

Maha

, The Press Club, and this one. If you're wondering the type of restaurant this is, have a look at its menu; it's all Greek to me - really!





Behind the unassuming facade of the restaurant lies a great expanse of a communal dining space. Saved for the big table in the fornt alcove and the courtyard seating at the back, the bar/kitchen counter occupies the whole strecth of the 50 feet or so restaurant on one side, while its parallel ¾ of the the space is taken up by seating - tables arranged in rows for nucleus form of dining, where food are encouraged to be passed around and shared.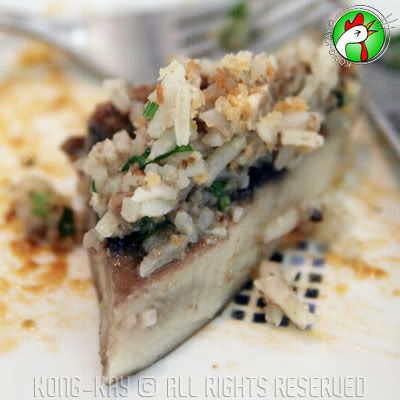 As usual the doc orders too much food; quail plus the chicken is food overkill. The orange sausages are the weakest link. The presto-like fig and olives combo has a nice savory quality to it, and when coupled with the light goat's cheese, it's divine. The Pork Belly Spit is as good, if not better than the Chinese counterpart; you can eat its crunchy skin on its own like a crackling

koropok

...

... so remind ourselves that crackling roast pork belly is not just restricted to the purview of the Chinese. The Greeks have a thing or two up their sleeves.

The goat and stuffed mushroom are memorable, in the sense that you get to eat these only a few times in a lifetime. The chicken and quail is not unlike any we have tasted before, maybe with different herbs, that's all.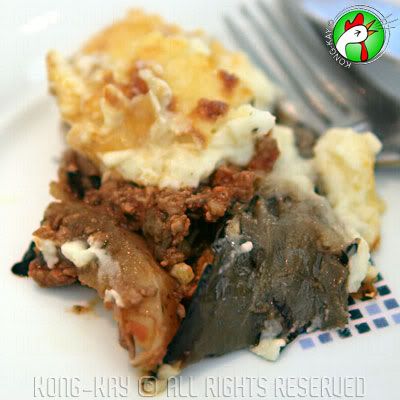 Finally a dish that George's proud of to be featured on the menu. He even revealed the 20 secret ingredients used in the making of his mama's Moussaka.
on Masterchef Australia
It's indeed a great classic! And I say "Yeah, George!"


The thing about the restaurant is that they only allotted us a 1½ hour window of dining experience, and we weren't allowed to be seated when we arrived 15 minutes early, even though there were a lot of vacant tables. Despite this, its food and service are excellent - no doubt about it.