Is it the fact that this place is located next to the City Library that it's called Journal Canteen? A canteen because it serves as one for the Centre For Adult Education (CAE) next door too? Whatever the reason, there's a little neon sign with the words "Rosa's Kitchen" hung on its window, which can be seen from the
street side; Rosa being "

My Cousin Rosa

" fame. The kitchen serves Italian meals - Sicilian to be exact.

Its daily menu is displayed on the blackboard downstairs, as well on the inside of the canteen.
The food changes daily; it consists of antipasto, a soup, choice of 4 mains, and dessert with coffee. It's best to opt for the
Degustazione if one is hungry, as it consists all the categories (choice of one main). Which is what we have as shown below...
... it works out cheaper, as one main course costs $20. The cannoli
is nicer than the ones from
Brunetti's
. And a stove-top percolated coffee comes with it. It's really filling when all the little bits and pieces add up. A very good sampling of what the food is all about here.
Where can you get a gauntlet of full course meal for

$32?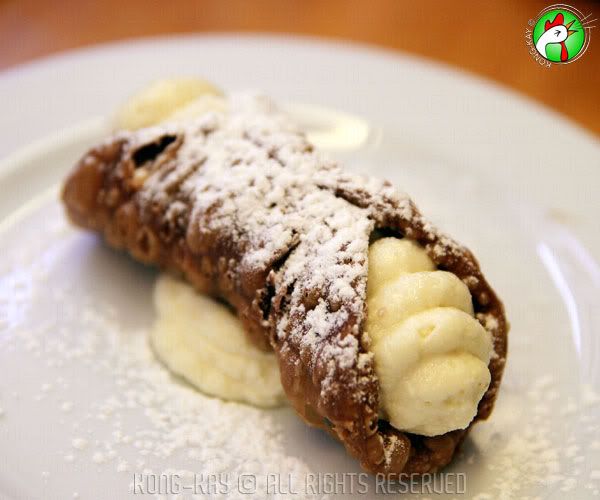 Ricotta Cannoli
I order a veal chop for myself. It's a simply hearty meal; followed by a coffee, which seems to be f.o.c. The open kitchen is so quiet that one hardly notices the activity going on behind the counter. Despite the crowd, the staff takes things at their leisure stride. No hurry, no worries. Even the lunch crowd takes their sweet time to enjoy their long lunch.