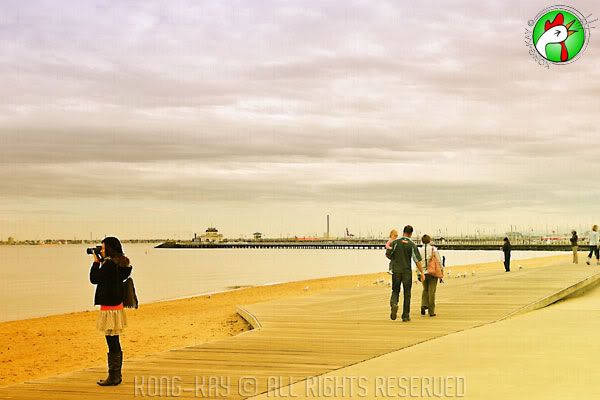 A morning at the beach; that's what it's to be a St. Kilda. No penguins though.
After a 2 hours' stroll, we head for Prince for lunch. Alas, the place is closed for a winter renovation. There are 2 restaurants behind the Prince; a Malaysian eatery and a Honky. We choose the latter. However, we have to wait a while as it only opens at 12:30 p.m. Even though we are the first one at the door, they still enquire if we have reservations - an inkling to the kind of place this is. Within 15 minutes, the Sunday diners begin to stream in; most with reservations.

At first impression, this is a family run enterprise with the siblings running the show. But it seems they have outgrown that stage; one of the waitresses is from Ipoh. Except for the fried rice and the vegetable, the other two are recommended by the maître d' of sort. You'd think they are the house's specials, but the roast pork belly is no better than those from the Chinese BBQ eateries. The food is less than spectacular for the price one pays. This is nothing more than a glorified

Zi-Char's

place.