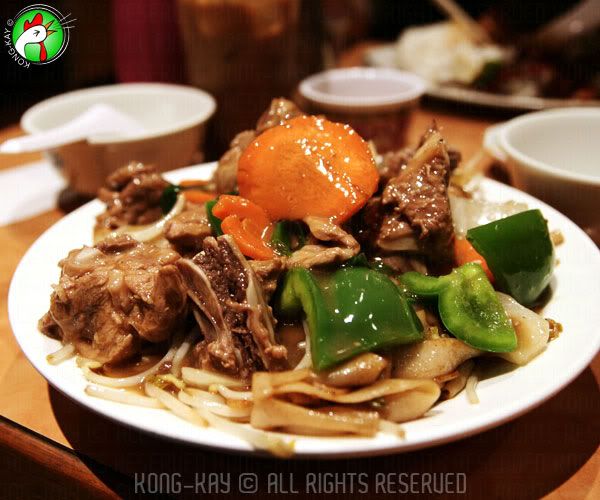 It may not be the best of times, but the worst of times to do a food review when I'm getting some sort of bug; and with the specter of the pigs' epidemic in the air, it's not too comforting have a stuffed up chest which can blow at any moment.

One thing for sure is that this is a popular haunt among students for its vast quantity of food, and also its drinks are at only $1 per glass. And now some of the specials they are offering comes with a drink for only $9.50. One can still opt for the cheaper "drinkless" meal, as Chinese tea is offered free of charge.

I have the pork ribs

Char-Koay-Teow

with iced

kopi

, while the other is the

Kung Pao

chicken with iced

teh

. My potion is enormous with the noodle reaching the brim of the plate. I have to remove some of the ribs to a smaller saucer so I can reach the noodle. I have trouble finishing the noodle - it's about 3 times the potion we get back at home. While my taste bud is shot, I try to compensate it with the nice chilli oil, which has fried anchovies in it. It doesn't help much.