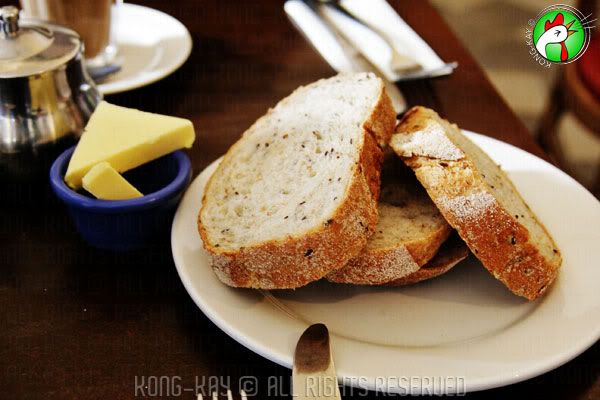 This is another of Julian's lunch expedition on his off day. I had mentioned at some point about trying Melbourne's meat pie to him. And I'm clueless of this bakery and he doesn't say what we are going to have. Only when I see the blackboard menu on the wall that I realize this is a Russian bakery with pies items as some of its specialties. Can you guess what I ordered?

When you are out of the jungles of Borneo, when given a choice, you don't want to settle for any thing less than the ordinary, do you? A duck pie will do, thank you very much. Julian goes for the chicken pie, while Sean has the corned beef sandwich.

Duck, Fennel, Sausage Pot Pie With Spinach & Endive Salad
When your order takes more than 20 minutes to arrive when the lunch crowd is waning, you know you're onto something... and when they warn you of the hot bowl as the pie is put on the table, it's getting warmer... the moment you poke the fork and knife into the crust of the pie, and it emits a crackling sound... bingo! This sure beats eating any frozen or on-the-shelf pies, without any of the soggy pastry skin. And I can boast of eating a duck pie... have you eaten any lately? As for the corned beef sandwich, I'm sure Dagwood or even Jiggs of Bringing Up Father will be too happy to lay their chomps on it.