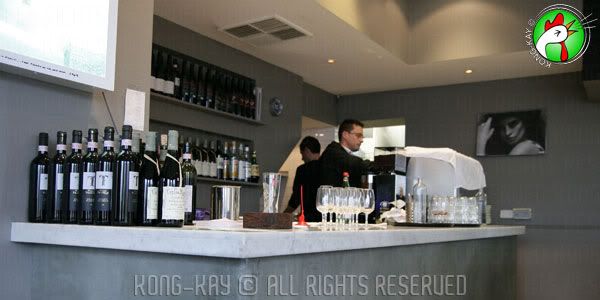 Julian calls to say we'll have an early dinner tonight. Okay! He'll be 'round to pick us up at 4 p.m. Okay?!!!


We have no clue as to what we'll be going, except that there's a mention of pizza. True enough he comes by after picking up the girlfriend from work - early day off.




After a short drive we're at this corner shop with few tables and chairs by the curbside. The place is empty of customers. Four of us must be the first customers of the day. It's a simple setup, with a prominent drinks counter, a red manual meat ladle among the seating area (a working show piece), a showcase of preserved meat and produce, behind which is the pizza oven. For a moderate size parlor, it has a huge crew size that seems overwhelming. I later learn that particular point in time is the calm before the storm; the action begins in the evening, and that's why the early dinner to avoid the crowd.

D.O.C. stands for Denominazione D'origine Controllata. Capire? It's a phrase used by various agricultural government bodies that set and oversee the standards of some Italian foods, most significantly cheese and wine (I nick this from its table menu).Thus sets the standard of the food and drinks served here. It's simple hand drawn and typewritten states: "Welcome back to simple Italian food..." . That's what the food is all about as attested by the ones below...

... described as vine ripened tomato, D.O.P. Buffalo mozzarella and basil salad. A simple simple salad that highlight the cheese - light, creamy without being cheesy.

Pizza Tiger Prawns...


... as the name implies pizza topped with prawns, tomato, mozzarella, endive and fresh chilli.
Pizza San Daniele...


... one of its prime choice bake that has San Marzano tomato, D.O.P. buffalo mozzarella, D.O.P. and San Daniele Prosciutto.
Finally the dessert...
Sweet Goat's Cheese Tiramisu With Pavesini & Montenegro