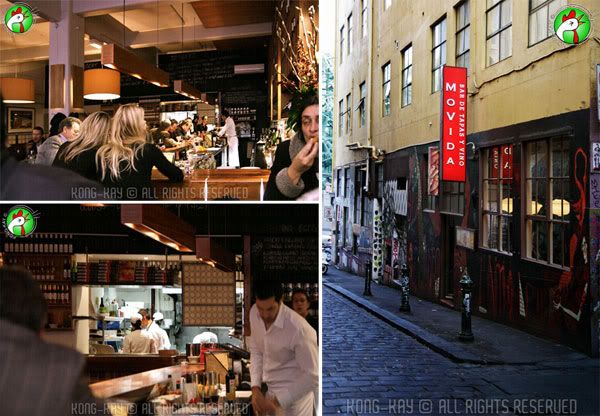 This is one place we had gone through on the Sunday walk-about with the doc; it's one of the more elaborately graffiti alleyway. At the end of the clobber stoned pave is this renowned Spanish bar/restaurant. I checked out their prices and they seem reasonable.

So when my brother from Sydney came for a weekend visit, we met him at the Southern Cross station, where he got off from his airport shuttle. with his bags in tow, we headed for place for lunch. It was packed, but there
was a tiny table by the window
which we managed to squeezed into

We were seated within minutes after the table had been cleared, drinks order taken,
menu brought before us,
and a slab of sourdough with olive oil to whet the appetite. When the ordering came, we were suggested a sampling from the menu (one piece each) to enjoy its full spectrum. So whatever that was brought before us was as much a surprise. Despite the waitress best intention to explain what each item was, they were all lost in the euphoria of putting the glorious food into the mouth...

... so we eat...

This first one is its signature dish: Hand filleted Cantabrian artisan anchovy on crouton with smoked tomato sorbet. Remember when your mom tells you to finish your food before you get your dessert. Well, you can throw caution to the wind here.

The sorbet is to be spread over the bread like butter. The whole effect is like having the fermented saltiness of the anchovy, and the cold sweet sour sensations tease your taste buds, with the crunch of the crouton that follows.


... and eat...


The roasted Spring Bay scallop with jamon and potato foam taken all together adds a new dimension to a plain scallop, with robbing it of its own true taste.
... and eat...

Fried silky croquette flavored with leek and mahon cheese
... and eat...


Marinated roast capsicum and tomato salad in Moorish spices... sweet!
... and eat...

Spiced pastry filled with Tuna - Spanish curry puff without the curry.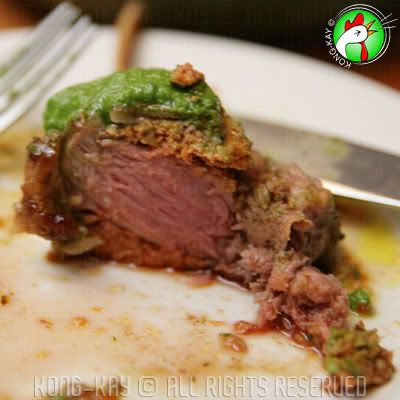 The plumiest lamb cutlet if ever I saw one; it's roast lamb cutlet encased in a Catalan pork & paprika pate. You'd be left wondering where does the lamb end, and the pork begins.

... and eat...

... and eat...
air cured wagyu beef thinly sliced with a truffle foam and poached egg - BEST!!!!
... and eat... saute of pine mushrooms.
... and eat... Julian joins us at this point right after work at two-thirty.

... and he eats...
spiced chicken escabache tapa on crisp crouton (chicken on Mayo, he says).


then he orders the 2 desserts... creme caramel and...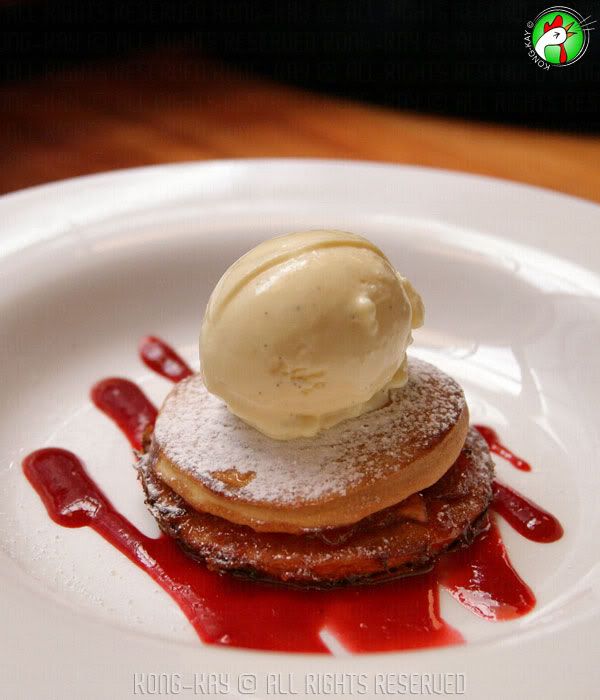 Basque Tart with Goat's cheese ice cream
... a tough cookie....
... and we still eat until the jaws drop upon seeing the tab; it's like one of the sushi conveyor-belt experience, and it's all worth it!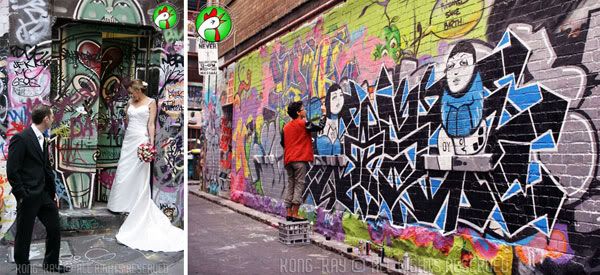 *Thanks to Louisa for filling in the blanks
.