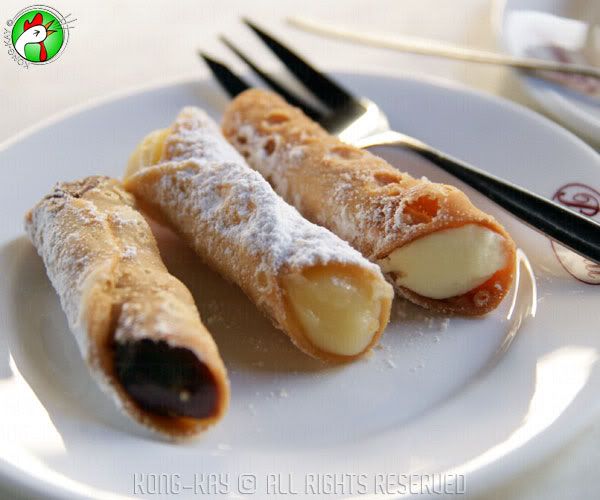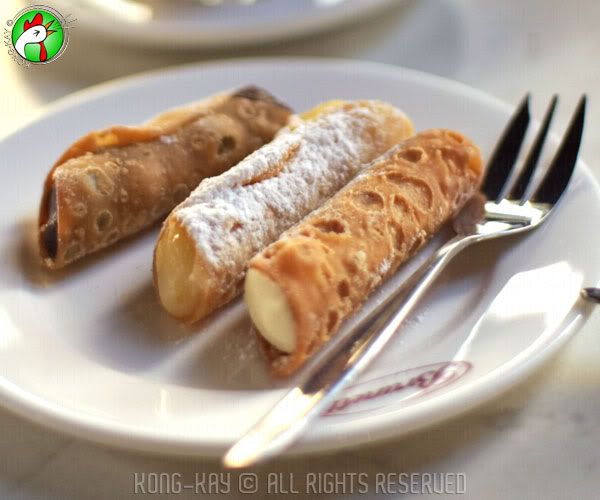 After the seafood lunch at Port Melbourne, we are supposed to take a leisure stroll along the beach road to St. Kilda. But half way through, a tram approaches the end of the line. We make a dash across the road and hop on it, and end up at Melbourne Uni. to look at one of its faculty. But the main focus is to have a bite of the cannoli at one of the cake shops of Lil' Italy, or what used to be an Italian enclave.

From the shop's numbers, you can imagine how big Brunetti is. Its display counter of cakes and pasteries stretches 4 or 5 shop lots, while the rest is taken up by the coffee bar. It ain't your mom and pop operation, but more like getting served in a McCafe.

I finally got my paws on the cannoli - 3 mignon Cannolies to be exact, of cheese, custard and chocolate fillings. These are tiny rolls. They are quite good. I pick out the Raspberry Charlotte; more for its raspberry topping than anything else. It's sponge cake with light whipped cream and the fruit topping. Yums!