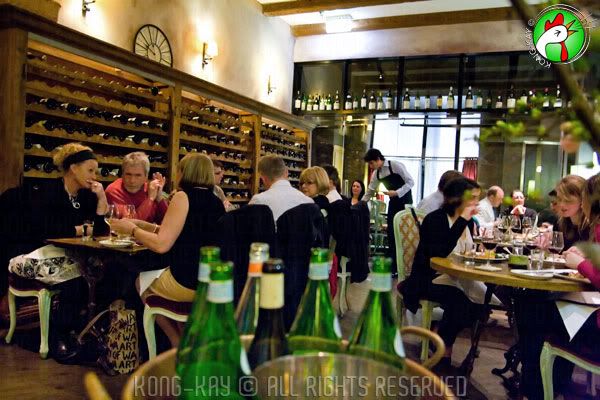 It's a toss up between steak and duck, not just any duck, but an

Ang Moh's

duck! In the end we settle for this middle sibling of the Vue's family. Both items are served here, and we'll decide when we get there with our walk-wagon.

The interior of the restaurant has a Provencal feel to it, with unfinished wood and beams, nails exposed flooring, down to its dimmed tungsten-lit ambiance. In a style that befits its "bristro" label, the food it serves is as rustic as it gets, repel of flourish and pretense.

Notice the snails (above) are just propped up by a mount of salt, and the tart (below) sit on a bare white plate. Having had escargot before, I opt for the onion tart with olives and capsicum. Somebody likes the snails, saying it's better than the local "

chug-chug-lay

" (mud snails). The

Pissaladière

has the sweet caramelized flavor of the onions working against the sour/saltiness of the olive, and punctuated with a burst of spiciness from the capsicum; all combined with the crust of the tart to bring together one sweet sensation (overboard with the description?).
The leg of duck rendered in its fat is unlike any Chinese roast duck. It retains its moisture of the meat while its skin is a bit crisp.The duck sits on a bed of roasted potatoes and salad green as an accompaniment.

I've heard of

Beef Wellington

, and this is the first time I've seen it done with lamb. The lamb looks pinkish raw; however, it's more like a medium state. Again no fancy footwork except for the swirl of the sauce.
What is there not to like on these two dishes?
The bowl of salad comes with the mains...


As for dessert, it's not for its lack of varieties, but because most of the items are those we have tried before. In the end, we settle for this out-of-the-ordinary (probably to me). The caption below says it all. It looks like strawberries, tastes like one too; but it isn't. And who would have thought a vegetable can taste so good?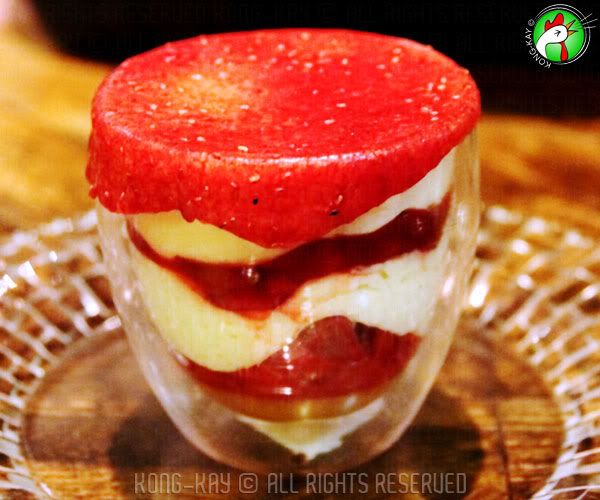 'Trifle' – Stewed Rhubarb, Vanilla Mousse and Almond Sponge


On the way out of the restaurant, we pass by the Vue de Monde, which sits in the middle between Café Vue and the bristro. As I look through the glass panels, everyone inside is dressed to the nines; with my 2 pairs of faded jeans in my travel kit, I don't think I'll fit in.