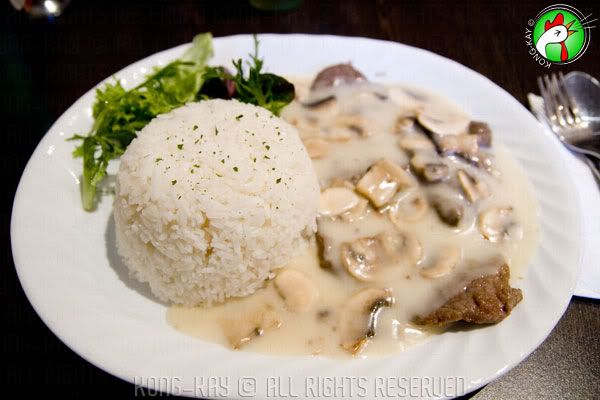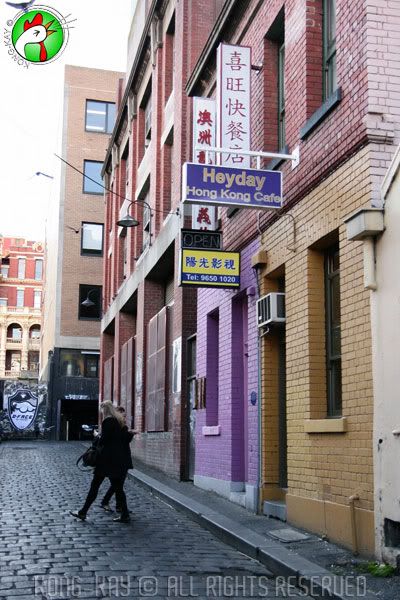 This yet another of kooky diners that is hidden along those less traveled lanes of Little Bourke Street. Having a name as
Heyday Hong Kong
, plus a mean bright purple for a frontage, it seems like this place has seen its better days of the 70s era. But then again, by the followings of the young in-crowd looking for cheap eats at the small cubicle of a dinning space, this may be the rise of a young twinkle whose star is yet to shine.
For a small place, it has over 60 items on its menu; but mostly variations on a theme, like sweet and sour recipe parlays over beef, chicken, and various seafood combo. Its funkiness stems from the fact that it fuses western recipes with Chinese pertinacious need for rice in every meal. Oh, it does serve a Chinese idea of an English breakfast: spam (luncheon meat) with eggs, baked beans and sausage.
It seems the flavor of the moment is its offer of a one-plate-meal with a drink for $10. I have the S

teak With Mushroom Sauce

, which is something like chicken supreme (Béchamel with mushroom). The other order is the Four Seasons Chicken; you guess it, chicken with 4 types of seasoning. The drinks are H.K. style of milk tea and coffee. If you want to save $1 on the drink, you can opt for the free Chinese tea.

58 days in Melbourne, 61 food blogs on the city. Better than my own hometown blogs' record. Have I out-eaten you at your home turf, Stella?
This marks the end of my tour of duty, I wish to extend my thanks to Uncle Tony, Simon & Stella, Doc, Julian, the in-laws and my brother from Sydney for the good times and the

Belanja

.