This New Zealander isn't at the market to do her weekly grocery, but rather to collect food for the Sibu Benevolent Society. She's a veteran of sorts - this is her fourth consecutive years at it. However, she has yet to best the
record of
a trio of Penangnites and a Singaporean of six years in a row.
This is a weekly affair for the society to collect vegetable, meat, fish and whatever the stall-owners and the Sunday shoppers donate. The volunteers of 2 groups start their rounds at 8 a.m. - one at the dry market for vegetables, and the other at the wet market for meat and fish.

At the end of the session, the food is trucked back to the center near the old airport. Then another group of volunteers from the Sai Baba and other church groups come to the center to sort out the food, and pack them into fridge and freezer.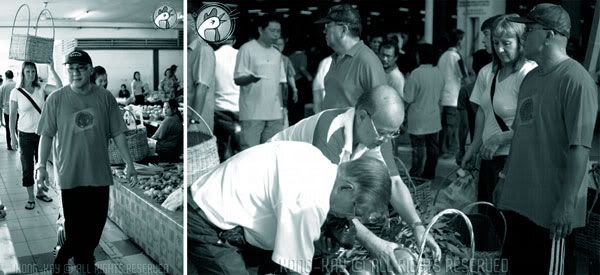 The weekly food collection ends up on the dining tables of these inmates
...