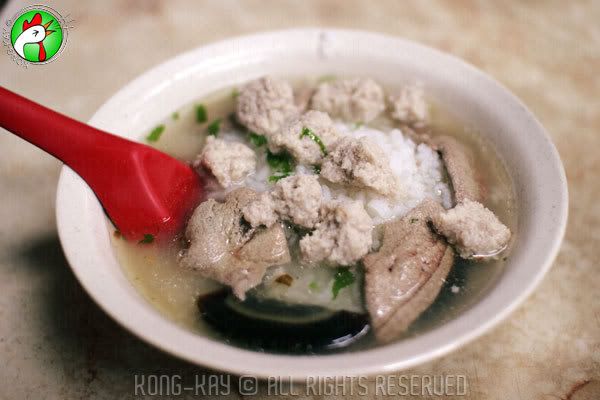 I always

kaw-kuang

(patronize) the fat lady's Teochew

Bak-Muay

whenever I have a late supper. By accident that I discovered this pork porridge; one of those nights I manage to find a parking space in the middle bay separating the 2 open-air eateries. The moment I stepped onto the back portion of the eatery, a man beckoned me to have

Bak-Muay

that, and so I did! And this time was my second visit.
Be warned... this porridge is piping hot! They use those high-pressured gas rings at full blast, and the pre-cooked porridge with the raw meats are cooked in under a minute. Scorch the cavity walls of the mouth a few times too many!

This is truly

Teochew Muay

as you can see the each grain of the rice . I took me some time getting used to it, and I'm loving every morsel of it. Notice the liver still has blood oozing out... it's a sure sign that it's still soft and tender; just dip it beneath the pile of porridge and it'll be cooked in no time.
I think it's standard, if you don't request for anything else, the porridge comes with minced pork balls and liver only. I overheard the next table's request for the

macam-macam

(this-and-that), which I think I'll be opting for the next time to see else they've got up their sleeves. The order with the century egg (top) is outside the scope of a normal order, which comes with the optional raw egg cracked into the bowl to be slowly poached by the heat of the porridge.