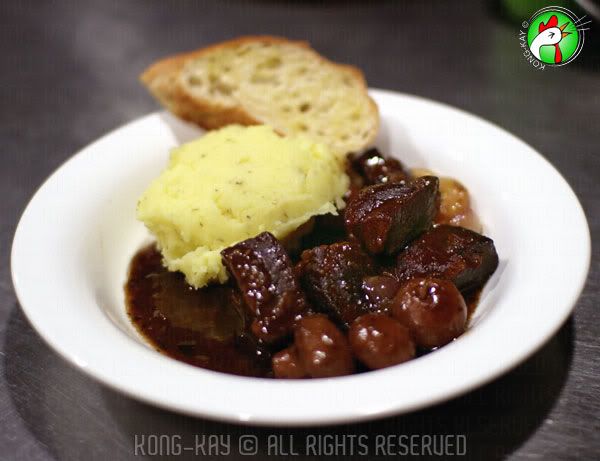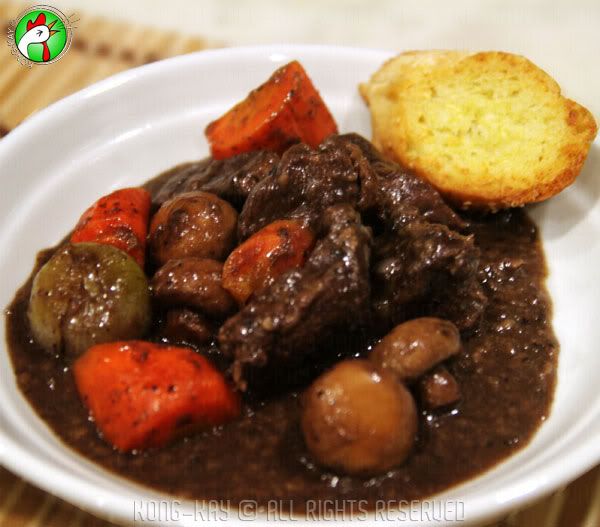 I have lost count on the number of iterations this dish (count the different presentations) has gone through before making the grades. It's not an exercise of experimentation, but more on procrastination on my part to draft out a meaningful text for the proceeding. The cooking method is simple enough. I do this this a couple of times a year, and it's been a couple of years since I took the first picture of it. And I've gone through 3 cameras taking photos for this recipe. The pictures are the best there are (for now), but I'd better kick them out of the door before they turn mouldy.





INGREDIENTS


---

1½ Kg. Blade (Gravy Meat)

---

12 Halved Shallots

---

8 Small Onions

---

6 Cloves Garlic

---

1 Can Button Mushroom

---

3 Bay Leaves

---

750 Ml.

Red Wine

---

Flour

---

500 Ml. Beef Stock

---

1 Tsp. Basil

---

1 Tsp. Parsley

---





METHOD
---
Put the wine together with the bay leaves into a pot; simmer over low heat to reduce the liquid by a third.


Cut the beef into cubes. Coat them with flour, and dust off excess. Sear them on all sides. Do them in batches.

Remove seared meat to an oven-proof pot.
Add in the herbs (parsley and basil). Let it simmer for 10 minutes...

... before pouring the broth into the pot of pot. Then pour in the reduced wine, with the bay leaves removed. Stir to mix well.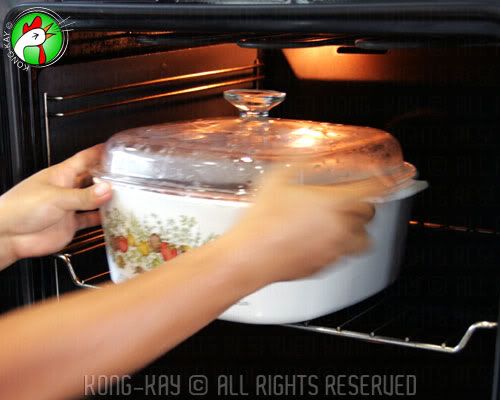 Put the pot into a preheated oven of 165ºC for 1½ hour.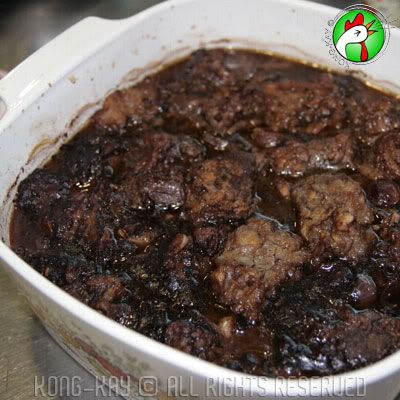 After
1½ hour, remove the pot from the oven...
Put in the sautéed onions.

Next
sautéed
the whole button mushrooms with butter; slightly brown them before mixing them with the rest of the ingredients in the pot.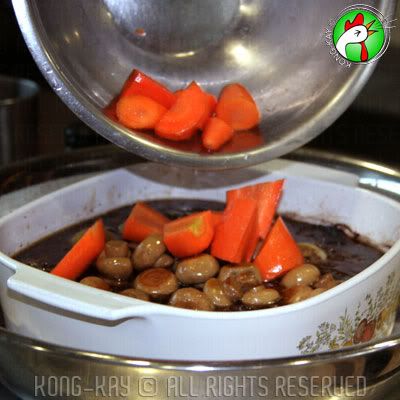 Add in the optional carrot chunks if desired. Return the pot to the oven for a further
½ hour.
Adjust the taste with salt. And finally thicken the sauce lightly with cornflour slurry.

---
---