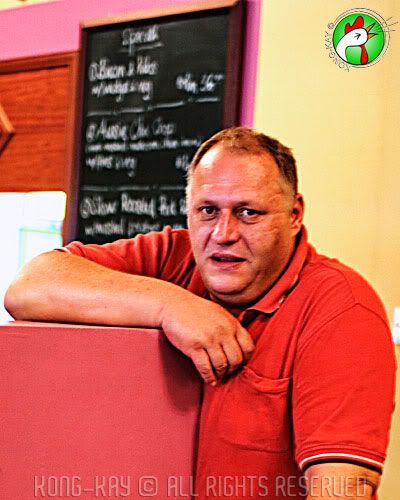 This is a belated post of a dinner that took place a few weeks after I had returned from the Melbourne.

We were here for an early dinner before sending the sister-in-law to the airport for an evening flight . Walter (left) the owner/chef was surprised to see me, as my (ongoing then) Melbourne's eating escapade was still running, and there I was in flesh at his establishment.
Still inspired by my blogs on the few Italian meals I had, he came out with an Italian influenced chicken dish (above) - he doesn't even have a name for it. It was chicken with capers. It has the feel of Chicken Ala King with a capers after-taste. Decidedly different from his normal menu.
The Chili Corn Crane (below) was what he had in the pot. It was one of the different stews he slips into his daily special. Despite its name, it was a toned down affair, minus the heat of chili peppers. But still, it was a full-flavored pork bathed in the richness of the tomato paste.
If anyone doesn't have fatty issues, the grilled pork belly is the thing to sink your teeth into. Although its fatty tissues look sinfully grotesque to swallow, its crisp skin, plus its firm and yet tender lean and fatty sides of the meat taste heavenly. The sauerkraut (sitting beneath the meat) , for whatever reasons, seems to be able to expurgate all the pork's extravaganza. Alas, it's all in the mind!



Any visit to Walter's place doesn't feel complete if this dish isn't on the table - the spareribs! You don't have to take my words for it. Others have been equally impressed.


Lastly, we tried something newly introduced while I was away; Angela's (Walter's wife) apple cake. Beside this, Walter now bakes his own garlic bread. It's not an economic factor, as it's not any cheaper than the ones he outsourced; it's all about being in control of the consistency of the quality of the bread that is served.