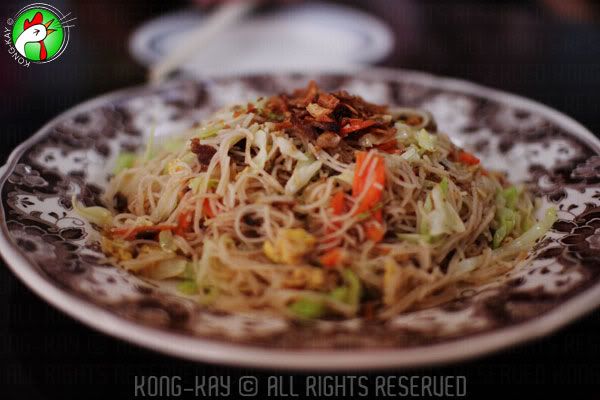 When I heard

Ta-Jiě​

(Big sister) has changed job, I wasted no time in locating her new place of work. She has been on the moved several times - from big restaurants to a small setup as this. She ain't no cook, but a waitress - one whose rapport has garner a great following wherever she goes. This bakery cum cafe is a relatively new one next to the bus terminal at Jalan Pahlawan; it doesn't have a proper signage but a canvas banner with its name in Chinese characters. So the name used here is a rough phonic interpretation.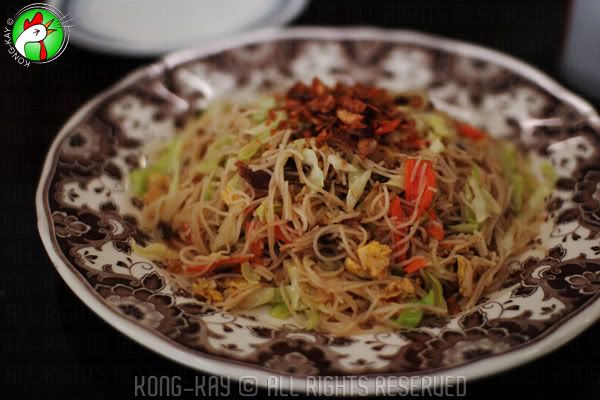 We just order whatever is recommended, and just a small portion at that, as we have just eaten a couple of minutes earlier - a bit of that later. They call the noodle Taiwanese Beehoon for whatever reason. It's fried dried with egg, cabbage, carrot and little morsels of something, which we cannot surmise at first; but after a few bites and letting the flavour sink in, it's deducted to be canned Kao-Rou (braised pork) - jolly good, Watson! Subtlety is its name, I suppose, 'cos it doesn't overwhelm you with a strong distinct taste, but rather teases you with a little bit of this and that, which cumulates into a whole grand scheme of thing. Furthermore, it's a light refreshing grub.
However, the same cannot be said of the 2 dishes below. They are from this bus terminal place , which is 2 doors down from this cafe. By default, we settle down here for breakfast after failing to locate Si Ziā Xiao initially. Whoever first thought of serving Mee Sua (thread noodle) in a hot claypot never understood the nature of the noodle; firstly, it's overcooked in the intense heat of the claypot, and still cooking when brought to the table. By the time you let it cool down a bit before chowing down, it's one soggy mess. The pig's trotter that comes with it is one tough cookie. Same goes for the beef tripe on the kampua on the right. Should have gone to STP's Rasa Sayang instead.