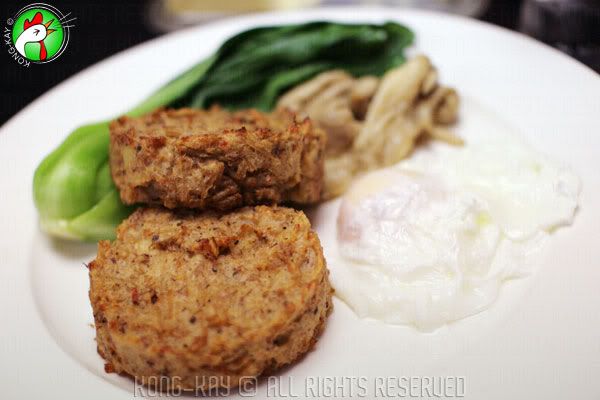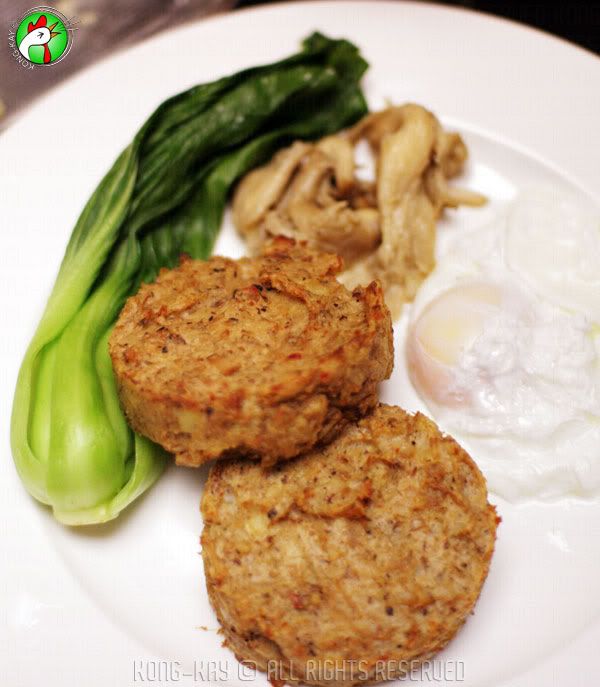 I have a couple pieces of "

N'go-Hu

" fish fillet in the fridge, and they are what you might describe as "

Lo-Ko

" (tough-son-of-a-gun) in Hokkien. They are inedible when fried ordinarily, and its color is just a horrible hue of grey. So when I read Food-4-Tot's post on fish cake, and saw another version by Michael Smith on T.V., a light bulb just lit above! There's salvation for the fish beside stewing it.

Rather than make the fish into a paste as one would with Thai Fish Cake, I took the cue from Mike's way of cooking it first (mine, steamed to tenderize) and then mix the fish flacks with potatoes to make them into patties. This version doesn't involve frying the patties but rather baking them. So there's no oil splatter.



*While searching for the link to Food-4-Tots' recipe, it leads to a trail of

this

and

this

and

this

.









CURRY PASTE

---

5 Shallots

---

3 Red Chilies

---

1 Clove Garlic

---

1 Pc. (10 gm.) Belacan Paste

---

1 Knob (8 gm.) Galangal

---

2 Tsp. White Peppercorn

---

2 Stalks Lemongrass

---

2 Kaffir Lime Leaves

---






OTHER INGREDIENTS

---

320 gm. N'go-Hu (Fish Fillet)




---

320 gm. Potatoes




---

Couple Knobs Of Butter




---

1 Tsp. Basil




---

1 Tbsp. Parsley




---

1 Egg




---







METHOD
---

Rinse the fish fillet and pat dry. Rub a bit of salt on both sides of the fish.
Peel the potatoes, then dice them into equal sizes before steaming them for

½ hour.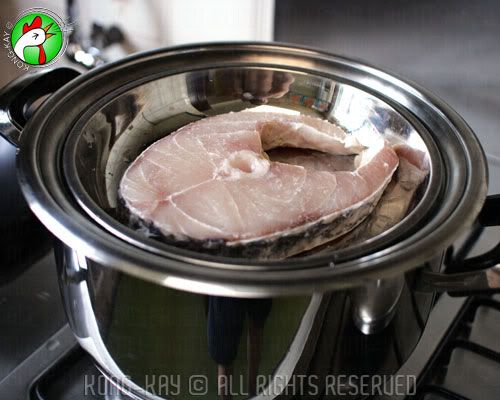 Place the fish fillet onto a steamer, and have it steamed over medium heat for 45 minutes.
In the meantime, blend the curry paste.
Drain the steamed fish of any liquid. Remove the bones and skin, if there's any. Break the fish into smaller pieces.
Heat up 3-4 tbsp. of cooking oil in a wok. Place the curry paste and fry it over medium heat until fragrant and the color is amber. Add a bit of oil when the paste appears dry. Continuously move and press the paste around the wok to avoid any burning.

Toss in the fish to blend with the curry paste. Use the spatula to cut the fish into smaller pieces as you fry.
Pour in a bit of water to moisten if it get a bit dry. Adjust seasoning of sugar and salt.
Scoop out the fish flacks onto a big bowl...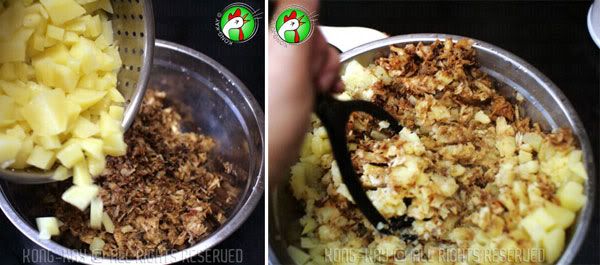 .. then add in the cooked potatoes and mash them, and mix well.
Plunk in a couple chunks of butter, and couple tsp. of basil and parsley (optional).
Crack in an egg to bind the mixture. Stir and mix well. Make adjustment with salt as the potatoes didn't have any.
Shape the fish mixture into patties form. Use biscuit cutters if you have one.
After that put the tray of patties into the fridge for ½ hour to firm up.
Preheat the oven at 165ºC. Place the tray of patties and bake for 15 to 20 minutes...
... or golden brown. Gently use a spatula to lift them from the tray.
Serve them whichever way you desire.
---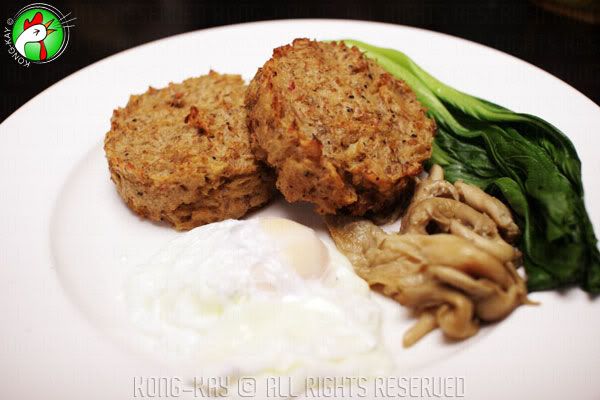 ---