This can very well be called: "Don't Start The Lunch Without Me!"
. I've been chauffeuring these NZlanders around town for a couple of days, and they offer to pay me; but I suggest they buy Indonesian lunch instead, which is a win-win situation - every gets to eat! But lunch date is never a good proposition to me due to the heavy traffic and the errands I have to run at those times.

By the time I arrive, they've already dug half way through lunch already as evident from the plate of fried chill oil salted fish. But still there are more than enough food for 6 persons.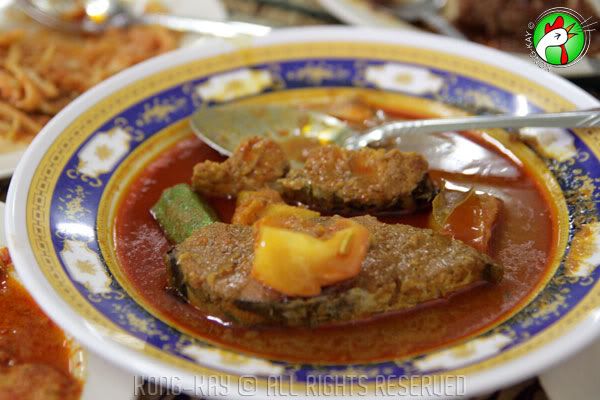 Assam Fish
This is an Indonesian Pre-cooked meal, where one gets to pick the food that's been laid out on chaffing dishes. There's no price tag on the items, so you'll get an arbitrary statement at the end of the meal. So be prepared with a fat wallet!

The place is owned by an Indonesian Teochew from across the border, Kalimantan. The food is relatively good, for someone like me who has the occasional Malay/Indonesian meal. That's when one gets to try the unusual cooked jack-fruit or the Ulam, local salad leaves with chilli sambal or the

Chincalok

(Fermented shrimp fry) or even the smelly-piss

petai

(pea).