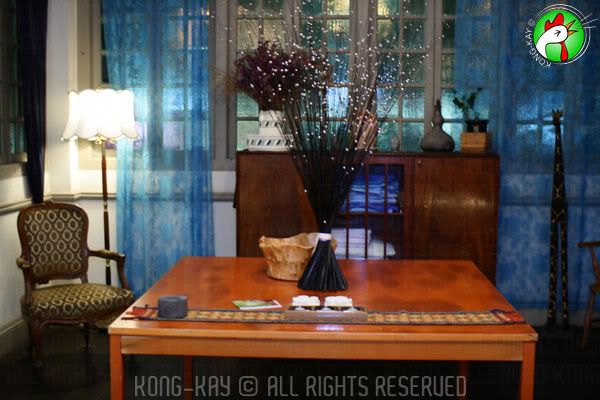 This is my third time here - all under different circumstances and each have different outlay of food; finger food for the book launch, normal offering from the menu the second time, and this time a buffet style set dinner. The restaurant accommodates custom menu if one has sufficient number of people dinning - I think, the minimum is 15 persons. It works out to be no more expensive than if ala carte is ordered. The neat thing is that everyone gets to sample all the different variety of food, rather than be restricted to one or two individual items. With the exception to some details, the co-owner tailors the menu to my preference (food and price-wise). Seating is arranged in an elongated co-joint tables stretching almost the whole length of the main foyer.



The meal starts off with the Bruschetta - at least it's different from the tomato ones we've been getting at most places. This is followed by the tapas of...
This keeps us going with the wine until the salad arrives - a lightly oil-tossed pasta salad
.

The ice cream ends the evening. If I remember correctly, it works out to be in the ballpark of RM35 per person, which includes 1 free corkage of wine (another one is charged), and free flow of cordial drinks.