It's been ages since I last went to Crown Towers - has it been 2 years? Ever since they imposed the parking fee, I stopped going; call me a cheapskate or whatever, I find the shops there uncompelling, and this is made worst when they closed the home store, and segregated all the eateries.
We've been on a dim-sum trail over the last couple of weekends. Memory fails me, and against my initial choice (the new dim-sum place at the Spring), we are here on a Sunday morning only to find that this place doesn't serve pork; and the other place (halal too) gives discount on dim-sum. So why fret, but grudging enter this place. Btw, this cheapskate parks at the free parking space on the western front.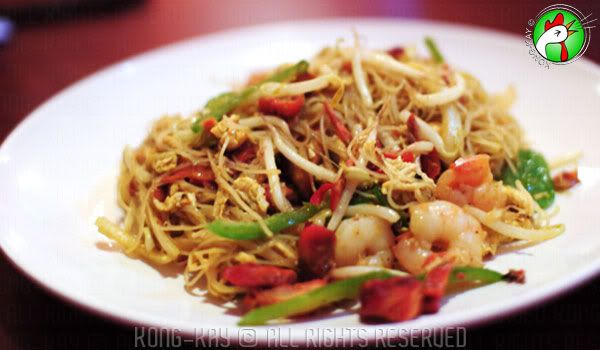 Hong King Fried Vermicelli
Instead of going for the customary all-out dim-sum fare, this morning's selection is more towards a lunch affair despite the fact it's only nine in the morning. The first 2 items can easily filled us up - the rice and the fried noodle.
The Steamed Prawnball Rice with Spicy Sauce (top) is out of the norm; a sambal shrimps flavored rice that borders on nasi lemak without the coconut 'lemak' on the rice. The delectable looking vermicelli

fried the Hongkong way

is actually delicately wonderful.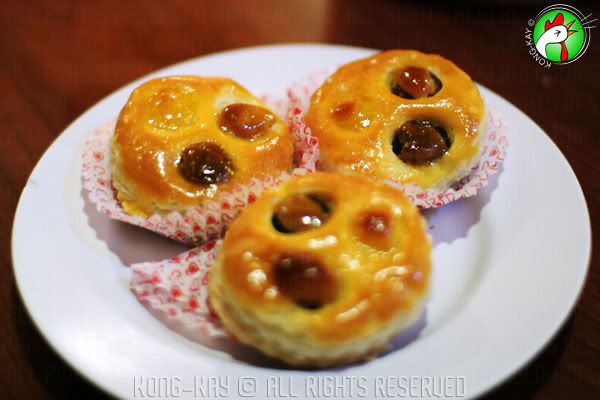 Chicken Floss Onion Bun
I seldom indulge in the sweets and cakes at dim-sum, however the oddity above has a "eat-me" tag written all over it, and begs to be wolfed down. Interesting!
The

freckled

sambal hay-bee fried radish cake; radically teases the taste buds to the point of evoking a Meg Ryan's When Harry Met Sally number (Ok, that's stretching a bit). One has to divorce oneself from the perceived tasted of what a radish cake tastes like to really appreciate this pumped-up zing.
Although the dumpling below has a great sounding name to it, it's no different from that of an ordinary Seow Mai, except for the bit of Irish, which presumably comes from the Po Chai vegetable. Well, maybe deviating a bit from the usual dim-sum grub is a good way of avoiding any of the halal shortcoming.