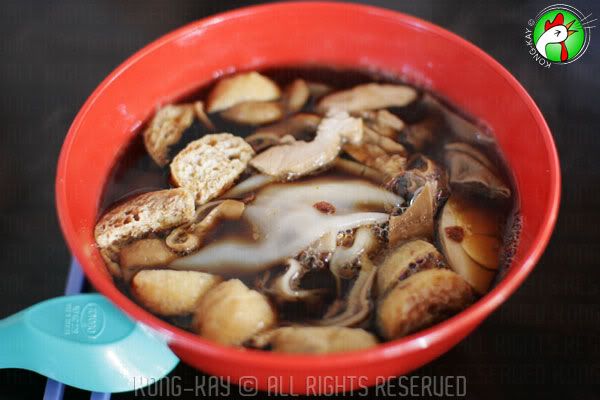 This block, collectively known as 101, has seen a hive of activities, where food is concerned, both day and night; well, some operate by day, while others along the 101 corridor only come out of the slumber after dusk. This particular coffee shop at the end of the commercial block does both, but on a different term - all-in-one coffee shop by day, and grilled western fare at night. I seldom venture into this part of the neighbourhood for breakfast, had it not been for my cousin, who wants to pay her niece a visit at her work place.

For a place that doesn't offer anything out of the ordinary,
this place is packing them in on a working weekday; it seems everyone is on a working breakfast these days. There are
Kolo Mee, Laksa, Foochow Kampua
and the likes
, Lui Chai, Penang Fried Koay Teow, Foochow Zi-Char and Tien Mien Hu.
The centre piece of the place is its roti bakar, done over charcoal at the centre of the shop
. And there are Nonya Kuehs to be had as well, and popiahs too! So whatever your fancy, it seems to have it. But whether A-G'am, Bay-G'am is another matter. But can so many people be wrong, unless they are lemmings!