INGREDIENTS
---
1 Bag Lau Su Fang
---
400 gm. Minced Pork
---
1 Tsp. White Pepper
---
2 Tbsp. Dark Soy Sauce
---
2 Tsp. Sugar
---
1 Tbsp. Cornflour
---
1 Tbsp. Cooking Oil
---
3 Minced Garlic
---
½ Carrot
---
4 Dried Mushrooms
---
1 Egg
---
Handful of Dried Shrimps
---
1 Stalk Green Onion
---
MEAT MARINADE
---
Add 1 Tsp. White Pepper, 2 Tbsp. Dark Soy Sauce, 2 Tsp. Sugar, 1 Tbsp. Corn Flour, 1 Tbsp. cooking oil. Massage thoroughly, and let it stand in the fridge for ½ hour before use.
STEWING THE PORK
---
In a pot, heat up 2 tbsp. of cooking oil; fry the garlic for a while before adding the marinated pork . Quickly stir to avoid burning.

When the meat is no longer pink, add the diced mushroom. Mix well. Then pour in water, just enough to cover the meat.

THE TOPPING
---
While the pork is stewing, beat one egg with a pinch of salt added, and make a thin omelette. Julienne it. Set aside.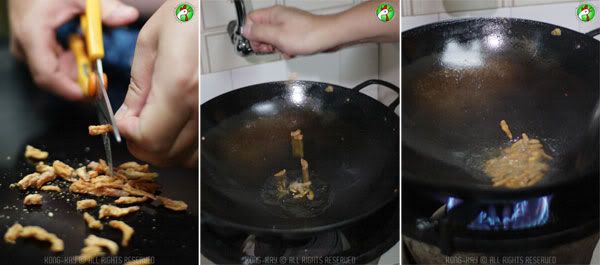 Cut the Hay-Bee (dried shrimps) into bite-size. Quickly fried over hot oil to give them the crisp. Set aside.
FRYING THE LAU SU FANG
---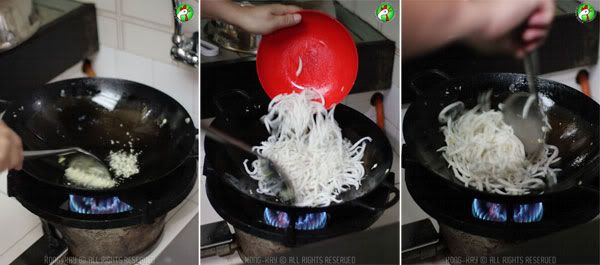 Drizzle 2 tbsp. of cooking oil around the wok on medium heat. Fry 2 of the minced garlic until fragrant. Then toss in the Lau Su Fang. Scoop from the bottom, toss and turn. Get the noodle oiled on all sides.
THE ASSEMBLY
---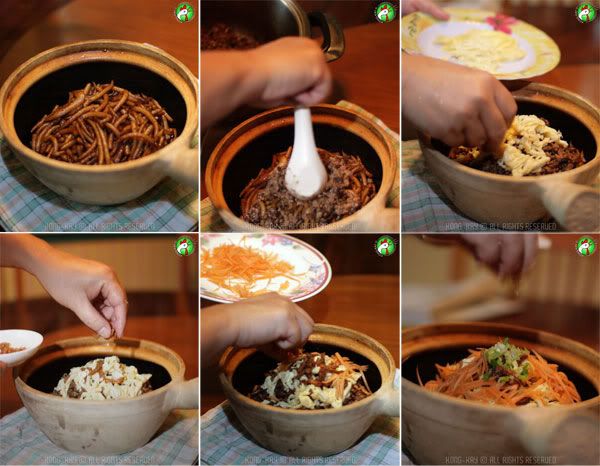 Pile on the stewed pork, omelette, dried shrimps, carrots and the green onion garnish.
---
---