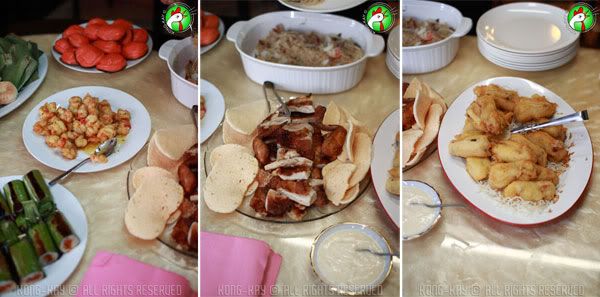 The food above is the collective effort of my cousins and their spouses at outsourcing from various eateries in town, plus some input of their own. There were
Nonya kuehs
, Thai style
Midin
salad, fried tofu,
Kompias
, fried fish paste chicken, butter prawns, fried vermicellis, and home-made jello pudding. I don't know where they are sourced from, maybe
Tea
can fill you in on that one.
Maybe I didn't collect enough sweets over Halloween... feel like a zombie in need of some sugar fix, so that I can be as hyperactive as Nate and Annie's Dan on a sugar rush; at the moment I'm on a slow boat to nowhere in terms of managing this blog. Luckily the above photos came out perfectly, and don't need any photoshop adjustments at all; it's one of those days, when things click and you're on a roll! Like the photo below, I couldn't even replicate the same lighting effect when I got home.