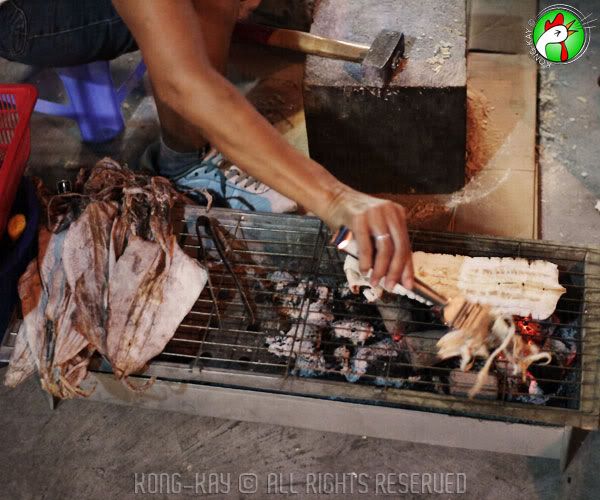 There's something about this place that 's intriguing... this plot of land has been sitting idle for the past 20 or so years while its surrounding area develops into housing estates and commercial lots. All this time, the owner has been sitting on a goldmine. I bet all the Lillians in the world will have a swine of a time

feng-shuing

this and that, after the fact - as usual.

The place has become one of the hottest night spots for its gung-ho hawker-stall food. All the feeder stalls of the various coffee shops will happily deliver their food to your table along this few hundred feet stretch of a corridor, no matter where you are sitting. And parking is a cinch, and with a few private security personnel thrown in as well.
As the title denotes, we order the food from all over the place - a little bit of this, and a little bit of that. The cuttlefish lady is one chatty lady who speaks fluent Cantonese, from her time in Ipoh, who will sweet talk you into buying her aromatic wonders. You can witness her on-the-job demo of the making of a cuttlefish, from a stiff slab to a hot and tender coarse roll.
The quails are simply delish nibbles... well, to a couple of Kiwis!


I think the fishes and the

midin

are all from the same stall. As the total bill is quite a bundle. When we enquire of itemised price, the most expensive one is the sardine, which costs RM30 for a single fish. When prodded of its exorbitant price, he replies: "It's from Holland." Oh, yes, We've been

HORLAN

!!! I gather this stall accepts credit card too... you'd certainly never leave home without it if you come to this particular stall!