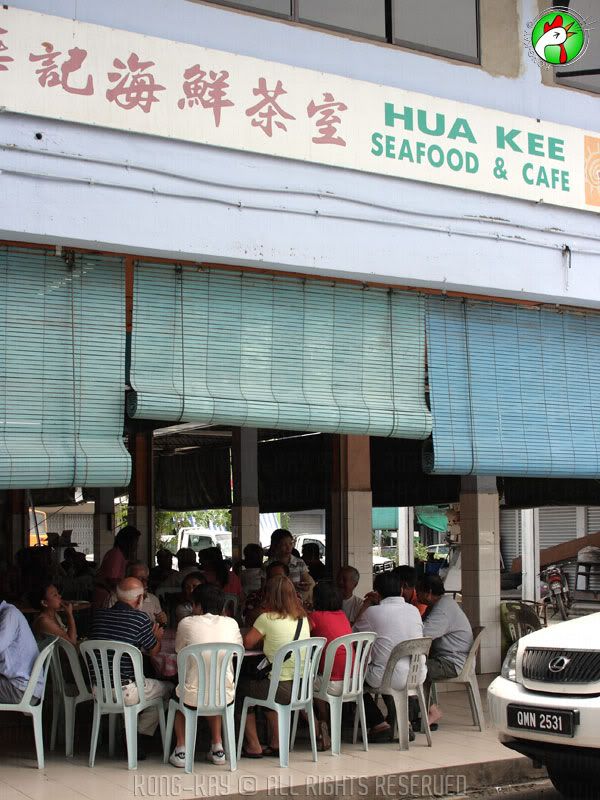 Wild thing!
You make my heart sing,
You make everything...groovy,
Wild thing!
If you've read the heading,
and understand it correctly,
you'd better turn away now,
or you'll be sorry!
Some of you may find the images
gratuitously off taste!
One has to transverse the Sibu/Bintulu "low-way" to get a whiff of the forbidden taste; it's a 45 minutes drive from Sibu. And in the middle of nowhere, there smacks this outpost by a mucky river. There are a few rows of shop houses and a jungle produce market that serves the nearby longhouses community. For city-slickers, the main attractions are what you see below....
... the four dishes up there may look the same, but they are different breeds of animal altogether. From the photos it's hard to discern the difference, as they are all cooked similarly with dark soy sauce, ginger, garlic and lemongrass, plus and minus a few other herbs; the only way to differentiate one from the other are its smell, texture and taste . There are wild boars, pangolin a.k.a anteater, fruit bats (above), and frogs and turtles (below), and some other animals I can't remember.


So if you're out to eat all the 'wrong' things at one place and not be prosecuted, this is the place to be. Even Pam, the intrepid N.Z. traveler, whos give Andrew Zimmern a run for his money, finds the scene at the back of the coffee shop (below) right after her meal interesting and educational. So what's holding you back?