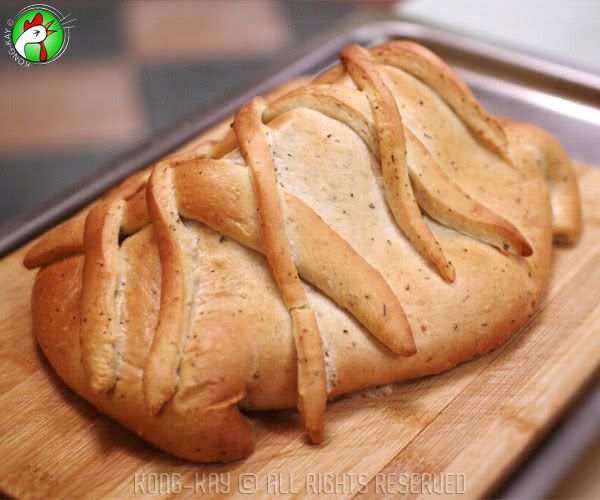 Does having a X'mas dinner before X'mas makes it less Christmasty? Not, if you're not into the whole X'mas enchilada. Anyway, when does pork work into the X'mas theme of a Jewish birthday? What do I know, and should I care? I've no sentiment for my own birthday, much less should I care for somebody else's. After all, I'm in for the food...



... and it has nothing to do with X'mas. Since it's near that time of the year, I call up Walter for a reservation, and suggest Gammon Ham and leave the rest in his good hands. And what do you know? He comes up with a loaf of bread! That's the first thing he eagerly shows me straight off his oven when I pop my head into his kitchen portal hole. Has he got a surprise or two for us!!!
It's a wonder what a 2-day-ahead reservation can yield
! A beautifully baked ham with mushrooms encrusted by a loaf of bread; it's like eating a freshly baked hot bread and ham. The ham is not as salty as you would find in most ham, and the moist mushrooms nicely gels with the slightly sweet bread and ham. It's a first for me. Thanks to Walter to take time out from his kitchen to an almost packed restaurant to slice up the bread for us!


Next up is the roast pork belly roll stuffed with sausage and presto-like paste in between. A crisp skin, follow by the tender meat, then a soft moist herbal touch of the presto and finally a firm sausage; all taken in at once resonates a difference in texture, taste and aroma that will satisfy the most discerning taste.

We have the all time favourite, smoky pork ribs, and lamb shoulder with a bevy of salad and greens to round off the meal... and the kids are more into their games than the food. More for us then!