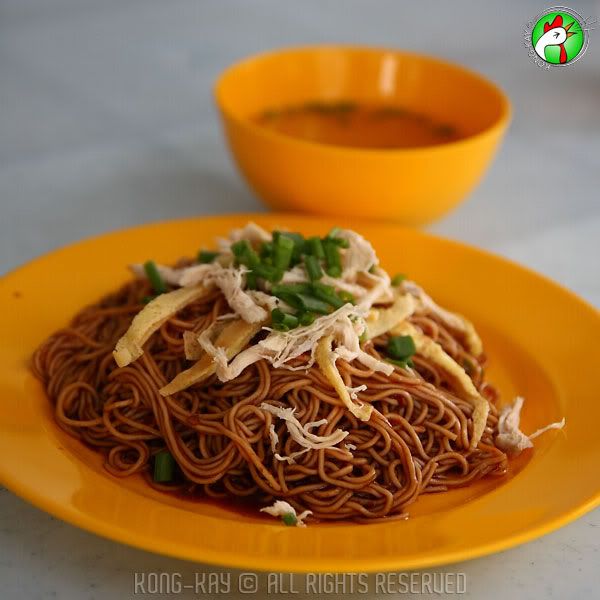 It's been quite a while since I had breakfast here. The fish/shrimps

chow chai hung ngan

that is associated with this coffee shop is no longer here; a new

zi-char

kitchen has taken over. However, on that day the kitchen has taken a holiday. I want to go elsewhere...


... but someone wants to stay on to try the

Belacan Kampua

. So I stay on for an ordinary dark soy sauce

kampua

; halal, nonetheless. This stall serves

hampalang

(total) kosher with shredded poached chicken instead of

char-sui

. The kampua I have lacks the yumminess of the real thing.
The same can be said of the

Belacan Kampua

. It's nothing more than a plate of noodle stirred together with some

belacan

(fermented shrimp paste) chilli. If you have tasted Kuching's

Belacan Beehoon

, at least, it has some redeeming factor of the broth. This one has the pungency of the

belacan

in its most awful state. As a condiment,

belacan

chilli is fine as an accompaniment to something else. But going solo as the main attraction, one sentence can only describe it:

Kampua

by any other creed is a terrible thing to waste!