Here I am, pining for a bowl of

lor mee

or even a

sambal (fried dried shrimps) fried koay teow

, alas it's not meant to be. Ghim Eng has hung up her apron. The lady of the house has taken over the rein of s

ambal koay teow

, however, the

lor mee

is history.


The style of frying the

koay teow

is almost identical, down to the mangled short strips (she says, that's how people like the noodle, and the

sambal

adheres to the noodle better). However, she promises to leaves the length of the noodle intact if I want it that way.

The fried

3.5" diameter

wonton

(RM3 for 5) is folded like a curry puff. Its content is minced pork with a chunk of shrimp. It goes very well with its own-made chilli sauce.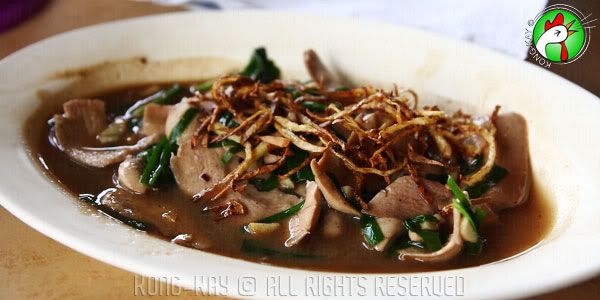 As it's a Tuesday, the abattoirs have their day off; and they are out of pork liver for the liver and kidney dish above. I suggest she do half the portion of it, but she won't have it any other way. We still end up paying $10 for wine infused ginger fried kidney. Good to the last drop, nonetheless.