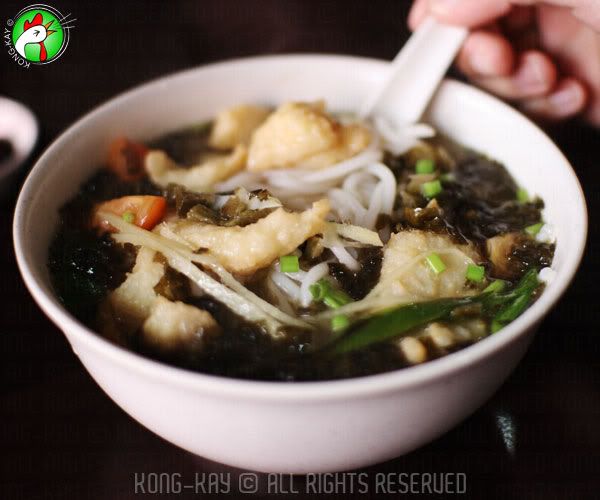 Fish Chow-Chai Hung N'gang
The blocks of shoplots behind the Rejang Medical Centre house a number of eateries. And this one is at the end of the road where Uncle Dom is, beside a roundabout. One can't miss this place with its pink sign that stretches the whole perimeter of the eatery. The bare minimum of decor makes this more like a make-shift eatery than a full fledge restaurant. It professes to serve China's Chinese-styled food, but its menu states otherwise...
... why I say that is 'cos it has kolo mee and some local favorites jumble among others termed as 'China style', whatever those may be. As it's our first time, we order 4 different items for 4 of us to be shared; that way, everyone gets a sampling of what the food here is all about. We don't know where to begin, so, except for the
Hor Fang
, the rest are the waitress' recommendation.
Fried Beef Hor Fang With Bitter Gourd
To start off, the soup of the
Hung N'gang, which is mildly chilli hot,
has the full flavor of the preserved vegetable, with its generous serving of the
chow-chai
. The light batter of the fried fish provides a textured bite to smooth silken flesh of the fish. There's a nice edge to hot and sour soup.
The herbal beef noodle soup is different from what one expects from the normal beef soup in town (heavy on star arsine and cinnamon bark and the likes). This one is more akin to the herbs used in the slow-cooked herbal chicken; it does tone down the strong flavor of the beef.
I don't remember if the fried hor fang of that style is on the menu, but when my brother sees the bitter gourd beef on one of its items, he can't resist having a combo with the noodle, done in the

Si-Chew N'gau Hor

way. Apart from the sauce drowning the noodle, there's a nice twist to the noodle, for those who dig bitter gourd.
The last item is a sweet and sour pork slices on kolo mee; no fireworks go off here!