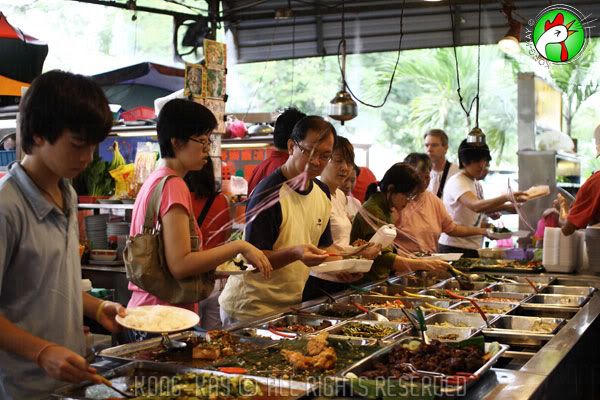 Having had Indo Mie Goreng the previous night, this is my first meal out having arrived in K.L. the day before. This looks like a popular eats judging from the Sunday crowd. Despite its name, this is actually a corner coffee shop with a zi-char at the back of the shop; I guess, that qualifies it as a bona fide restaurant. Its "economy rice" section certainly has a lot to show for on its kitchen's effort, and the line forming around the hot trays testifies its popularity.



The 2 plates
(below)
from the economy rice section come to RM10 - pretty cheap by KL's standard,
and you'll know what I mean in the next few posts;
just look at the amount of grub on the plates!
But then again, this place is considered way-way out,
ulu
!
The
Loh Mee
(very top) that I have is only RM3.50. Thick and flavourful - none
N'go Hiang
or sour. Lots of
Tau-Pok
and fishballs; not the best there is, but sure beats the
Indo Mie Goreng
!
The
mean

looking
prawn noodle in the
hot
chilli-oil soup is as hot as it looks. No additional c
hilli sambal
is required.