I swear, I 've written on this place before, but I can't seem to be able to find it in the archives. Therefore, I'm not too sure of the name of the road it's located - it's a toss between Jalan Osman and Kai Peng. But one thing you can be sure, it's next to

Art Friend Photo

. This place, among other things, is famous for it

Butter Baby

Kailan

(above). But that's not all...


... apparently, the restaurant provides food that is easy on the stomach and the wallet. as well And the packed house that evening is testament to its good name. Despite a reservation with an advanced food order, the food takes quite sometime to be delivered after some tables have already finished and left. The good thing is that the quality of the food doesn't suffer as a consequence. The herbal chicken is sweet bearing slight nuances of the herbs, and the best bit is its broth/sauce.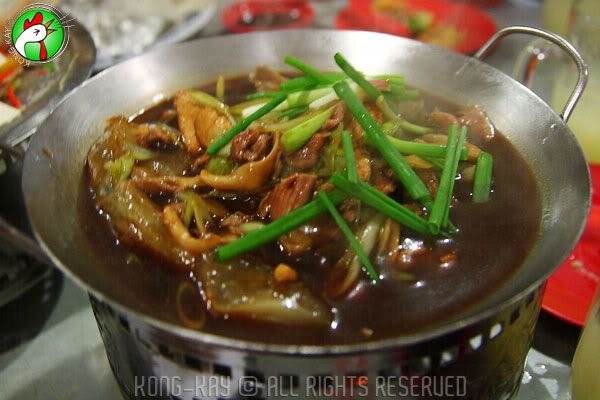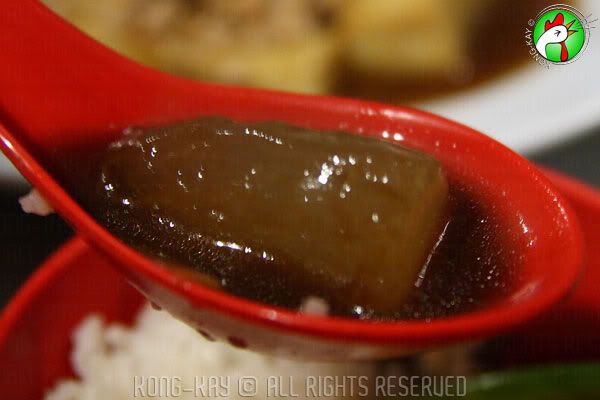 And if you have a taste for bouncy, slimy stuff, the braised beef tendon might be your type of dish. I savor its full-flavored sauce. I think it's a libido-enhancer of sort; much like the p-part of a certain animal, and it ain't no bull. See the shiny texture left.
You've got to try it out, then try it out to know the result; or else you'll never know!

The steamed

Lajong

fish comes out steaming hot, and fresh too. Any fresher, I'll get a slap from the girl next table.

The butter shrimps and the home-made tofu with minced pork make up the rest of the evening's dinner.