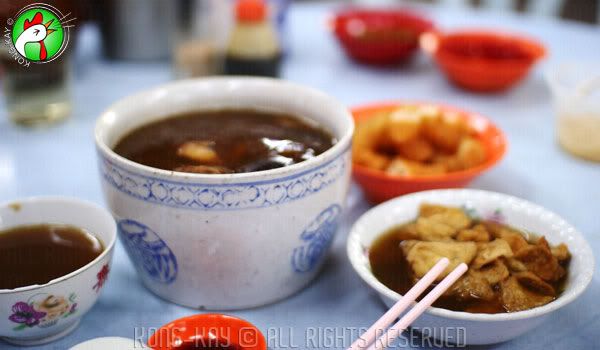 What can you say when someone is determined to give you a treat you even when you've just finished dinner? Go with the flow and accept a supper instead. So after nine, my friend spins around to pick us up; he says, we are gonna for a 25 minutes drive to this

Bak Kut Teh

place, which was formerly at Pudu, where his former office was. So a drive through the highway to the middle of nowhere, there is this lone corner shop with a bright sign with a photo of a claypot indicating its very existence.

It's either a quiet night, or we've missed the dinner crowd, and this place caters to the night crowd only. We have a small bowl (according to my friend) of the

Bak Kut Teh

among 3 of us. Plus a side dish of intestine,

Yaw-Char-Kueh

(Chinese crullers), and surprisingly a plate of fried cabbage, for someone who only eats beanspouts for his vegetable supplement during his college days. Also we have the yam rice to go with the lot.

The

Bak Kut Teh

soup is definitely different from the West Malaysian usual stuff; it doesn't have the strong obtrusive aroma of the herbs. A gentler form of herbs are use here; ones that are akin to herbal chicken - wolf berries and

Tong Kwai

roots. They have a subtle, sweet nature that egg on the flavor of the spare ribs and pork belly. The thick dried mushrooms also add a different dimension to the soup, while the

tau-chuk

(soyabean skin) absorbs all its goodness to deliver a satisfying essence of the potpourri.

After the meal, my friend

tapau

2 potions (same as we had) his son and neighbor. And the total bill comes to RM130! My friends reminds me this is not Kuching. That's the way it is!