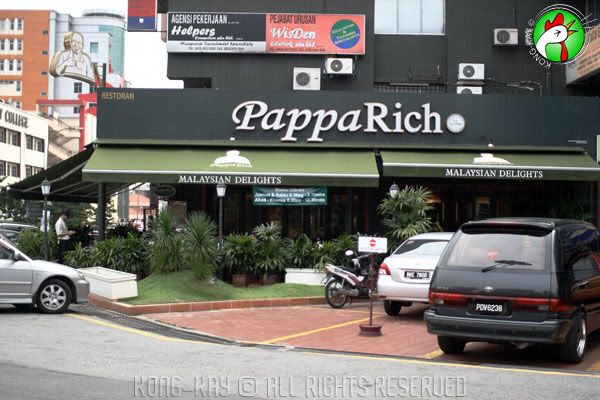 Like the name says, either one has a father who is rich to start the franchise, or you need rich papa to be a franchise holder; either way, both sound plausible. However, you don't have to be very rich to eat here. The prices are almost comparable to those found on this campus suburb, where the price starts from RM5 onwards (Sarawakians find this prohibitive for street food). The whole area feels like it's on a second tin-rush, whereas the only commodity found is the students parents' cash; and they sure know how to wring them dry - from schools, books, food and accommodation.

Lucky for me, I don't to dough out for this lunch. My former house-mate, whose office is just around the corner, picks this place and the tab as well. He says the

Ipoh Hor-Fun

is good, so I order whatever he's having, and Seth has the

curry mee

(top), which he says is good. I guess his palate is conducive to whatever food there is. As for my rice noodle soup, when you take "Ipoh" out of the equation, what do you have? Ordinary

Hor-Fun

! Its soup is just plain old chicken soup; I'll take Singapore's

High St. Tai Hwa Pork Noodle

or even

Kuching's Bishopsgate Min Joo

any time.


* the logo of the place is eerily similar to that of Uncle Dom's, Sibu. I guess Uncle Dom had better sue
for misplacement of copyright.