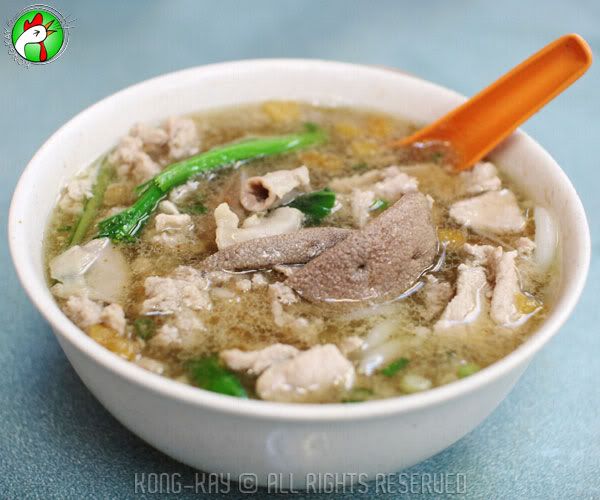 And now, the continuing story of my K.L. odyssey... it's way past 1 p.m. when I get a call for lunch, and I'm down at my friend's office in a jiffy. He suggests a noodle shop that is 2 blocks away. However, there is a lunch queue at its entrance, so we venture further down the street to a coffee shop that has a couple of stalls selling roast meat rice,

lok-lok

and noodle
. It's not packed, but a few tables of customers are still waiting for their food, which makes it look like a busy, busy place. However, that's not the case. We both opted for the noodle, which seems to be what most people waiting for their food are having as well. What's so special of its noodle, you might ask?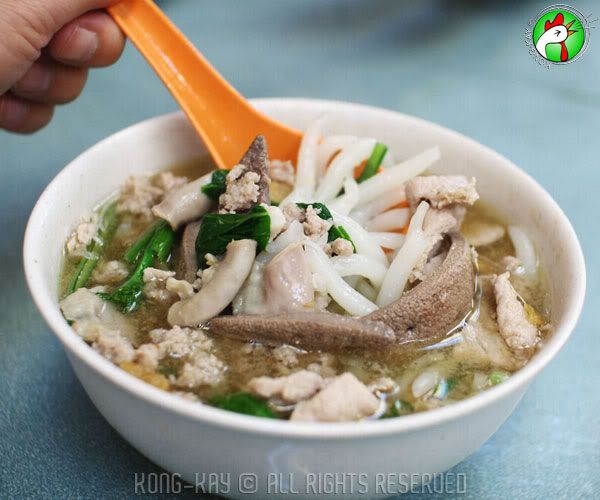 Nothing, nothing much! And the long wait for the food is not due to its roaring business; it's got more to do with the fact that the guy cooking the noodle is doing a slow mo' over the stove - one coil of noodle at a time (

Talk 'bout Chop! Chop! pace of the city!

).

When our noodle is finally delivered to our table, I begin snapping away in the usual fashion. Then the

towkay-soh

asks my friend in Cantonese on my doodah and had better stop whatever I'm doing, and my friend tries explaining 'foodie' and 'blog'. And her reply? There have been people trying to copy their noodle!

WTF??? What do you see up there?

Lau Soo Fang

with minced pork, pork slices, intestine, liver and greens. My memory isn't that bad of needing a camera to remember what goes into the noodle. Besides, the soup is way too sweet with tons of rock sugar in it. Sheeech! Some people are getting ahead of themselves and got winds in their heads!