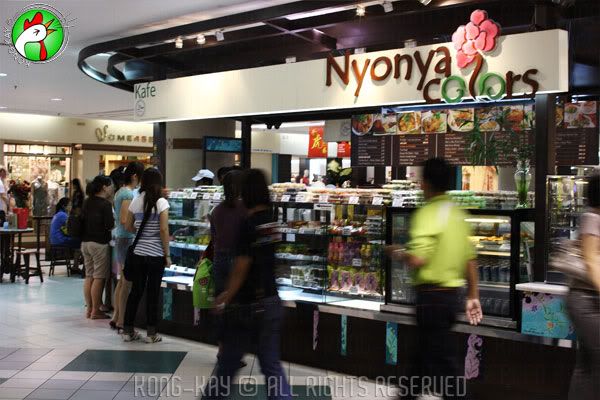 Have been searching for a adjustable madolin for the past 3 days, and today I got lucky; meaning it's within my budget. It's one-tenth of the price from the one I saw at Sri Hartamas. It's plastic as opposed to stainless steel. Hey, what do I care? I'm only a weekend pretend-chef. Speaking of which, I have yet to take it out of the box and play with it. I know, I've been slacking... like taking the camera out of the holster and do some shooting, keeping in tandem with the mouth.
Anyway, we're at this mall, just browsing and waiting for lunch time to happen. And the only thing I got on this trip is the 'above mentioned'. Rather pathetic when one's options diminish with years. So on most excursions, food thrives on this feeble mind, or is it the other way around?
This Nonya place that my sister has been hankering about is a kiosk in the middle of mall's walkway on the old wing, with limited tables and stools along its side. As can be expected, there's no major cooking on the spot; all the food are pre-cooked with minor heat-up of noodle etc. For all its worth, the food is actually not bad for those craving for (Penang's) Nonya fare; but there are a few misses, like the thin-cut Koay Tiaw used as Cheong Fun or the soft paste-like Otak-Otak, which I ta-bao home. Oh, it has a wide selection of Nonya Kueh which looks very tempting, but at almost a ringgit a-piece. The nicest thing around are the faux-antique painted stools (above left).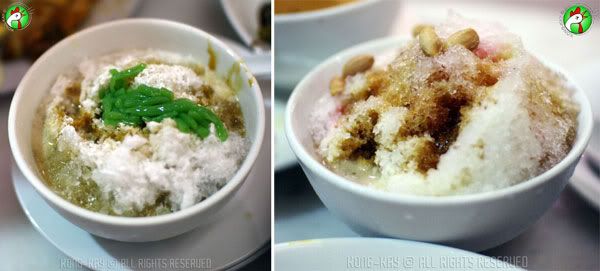 Chendol And Red Beans Ice
If you're wondering about my 2 weeks' hiatus, I haven't been to anywhere but here in Kuching enjoying a mini
Johnnie To's
retrospective, and a major rub-down to rid meself of the heaty chi. Now I've got polka dots on me back!