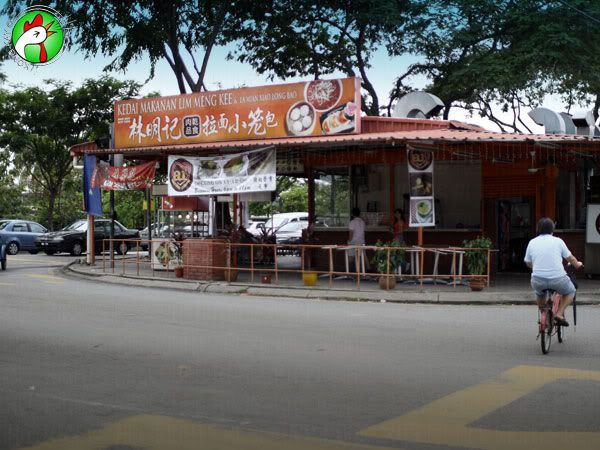 For someone who has to rely on the GPS for getting around, my brother-in-law seems to be apt at finding this place without any navigational aid, but with some uncertainty. Nevertheless, we manage to find parking at the adjacent street on a subdued Saturday.

This "Open-Air" (as Sarawakians call it) is the last place I would expect to be brought for lunch (a bit of that later). It's at a junction of a busy thoroughfare. The signage above the structure that holds all the eateries looks promising despite its outwardly appearance. I'm about to find out what the fuss is all about...

My brother-in-law has been talking about this place for about a week now (Okay, he mentions it the week before, and I've been away for a week, and am now back to stay with him for another week.); so this place must be something 'cos all I can make out of what he's saying is the fruit ice and tidbits to eat; you have to forgive him for being foreign, and eats anything and everything. And he's not an alien from infinity and beyond! The above photo of the fruit shaved ice gives you an inkling of what's to come...


... as we enter this place, there's a long stretch of stalls on the right, and seating on the left. The food on the counter are stacks of finger food, which are destined to be deep fried. We order all of our lunch here, and never venture further, where the dim-sum seems to be. These few stalls belong to a conglomerate of sort as one person comes to the table to take orders for all the collective stalls, and all the food ordered are itemized and printed under a single check - not something you would expect from curbside stalls.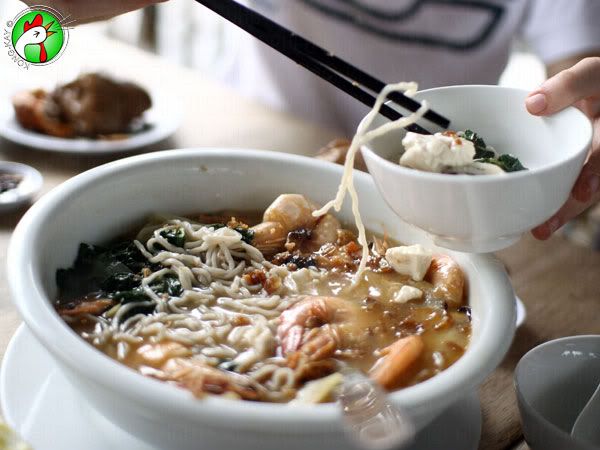 On with the food... the fruit shaved ice is simply yummilicious - tastes as good as it looks. The creamy spread of the fruit (kiwi, mango and strawberry, which isn't available then) plus chunks of the fruit itself ensures you have a taste of the fruit at every scoop. At RM5.50 each, this is far better than the artificial flavored shaved ice they served at those ice igloo place in Kuching.
The bowl of Shrimp Noodle to be shared by all is suggested by the waiter, and I inquire of its price before ordering - don't want to be saddled with a RM90 bill later for the dish; it's only RM27 with reasonably sized shrimps. It's different with the sprinkle of fried dried shrimps (

Hay-Bee

) on top - a double wallop of shrimp flavor. The 'not-so' spicy beef noodle (below) is worth a mention too.

2 Sides Of Crab Shell
And now for some old school grub - the "

Chi-Pau-Kai

" (paper wrapped chicken); haven't had these since school days when it was a fad. Ah, the rich aroma of the Chinese wine soaked chicken, and a sizable chunk of meat in each parcel too! Lastly, the stuffed crab is just as good as Sibu's stuffed lokan, if not better. They both feature similar preparation recipe.