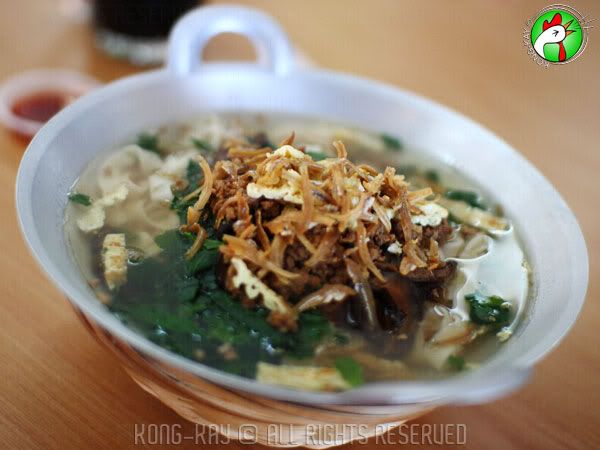 While we were at Tung Lok Corner having shrimp noodle, we bumped into Ghim Eng, the wandering Sambal Koay-Teow lady. When last reported, she was no longer at the Lady Cafe; that might have been her sixth coffee shop she worked in. She told us of her new location, and a new noodle she's doing, available on Thursday and Friday.
So the next day, I found the new place without much difficulty; the coffee shop is at the back portion of the Rejang Medical Centre, facing the end bit of Tiong Hua Road, if I'm not mistaken. The Pang Mein was what I came for, and it was the only thing I ordered beside the Kopi-'O' Peng.
I had the noodle with soup (top photo), the other 'dry' noodle is someone else's on the prep. table before it was delivered. The clear soup was rather bland although the fried anchovies in some degree did help improve its taste; but it's not the same as if the anchovies had been simmered long to add its essence to the soup. Strips of omelette, fried minced pork and Mani-Chai shreds lent color and flavor to the noodle.
Anyway the noodle was the star of the dish. This egg noodle was made from scratch: rolled out and cut before being cooked, thus retaining its moisture and tactility. It was smooth in texture and supple in its feel. It just swooshed into the mouth and down the throat with ease.