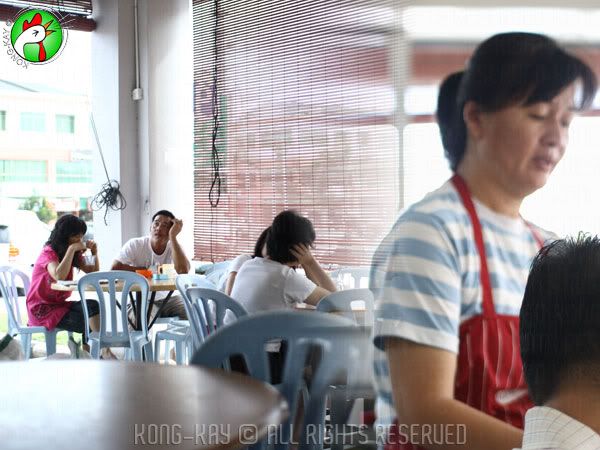 You may have read past review the shrimp noodle of this back kitchenette; it has its origin next to the Sibu's MAS office at Jln. Tunku Osman, and latter at MAS corner near the Paramount Hotel. Now it's at the corner unit opposite the Sibu's bus terminal. I may not recognize the chef, but the person to look out for is the lady pictured left (composite photo). She represents the face of this "famous" shrimp noodle eatery; the inverted comas has a connotation that is best reserved for someone with less notoriety... (explicit language ahead!)
Hung-Nang with Fish Slices and Medium Shrimp
... there's a more famous shrimp noodle place in town, whose price tag exceeds its reputation; my cousin was 'invited' there over the weekend, and the bill, according to him, is RM150 for 5 bowls of noodle with drinks (just ordinary Kopi-'O'). Still there are braggarts who insist on being slaughtered, and coming out alive to tell the tale with glee!
A good bowl of
Chow-Chai Hung-Nang
(thick vermicelli) lies not in how big your shrimp is, but it's in the broth ; a balance of sour and hot from the preserved vegetable and chili, and the titillating flavor of whatever seafood is used, and also whatever bones that are used as the soup base. Sizes of shrimps are just mere sideshow for those who need to compensate for their inadequacies, be it dickhead or pussy 'n the boob. (
For your reference, the bowl of noodle here costs RM4.50 at cost,how much did you pay for yours?
)
Our 2 bowls of medium-size shrimp noodle, 1
Cham
(fish and shrimp) noodle, and 1 plate of fried noodle with fish come to a mere RM34... around RM10 for the
Cham
and RM8 each for the rest. I rest my case.