Annie's classmate from Germany drops by for the weekend. I have the task of being the tour guide in the morning... more of a bird's nest guide to be exact, with 4 shops checked out.
Annie & Nate have made prior arrangement to have dinner at this place. This is their first visit. By the time we arrive, Nate is already busy snapping away at the live sea creatures in the aquariums. And most of the food have been ordered. Photo left is a composite of a table having too many food bloggers at one go!
We are the early birds and there are still a lot of parking spaces right up its front door. And there are only 3 to 4 reservations for the night. The first thought that comes to mind: It must be a slow night! But we are proved wrong...

... the crowd starts trickling in and soon most of the tables are taken. We start off with the Shredded Chicken Noodle, which is meant to stuffed the children up first, as they are not likely to take in anything else. And the food comes in quick succession until we ask them to slow down after the fourth dish arrives. At the rate it's going we'll soon run out of space at the table. I guess being one of the earlier arrivals, they better quickly dispose off our orders before the crowd starts plying in. And soon after everything slows to a trickle, and becomes an 2 hour odyssey
.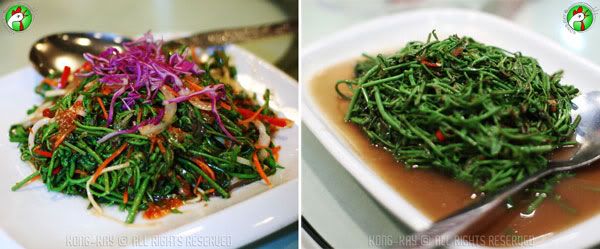 Annie's Choice: Kerabu and Belacan Midin
Most visitors can't seem to get enough of the local fern (midin). Having tried it with Chinese red wine the previous night, we have a plate of cold salad, and another fried with
sambal belacan
.