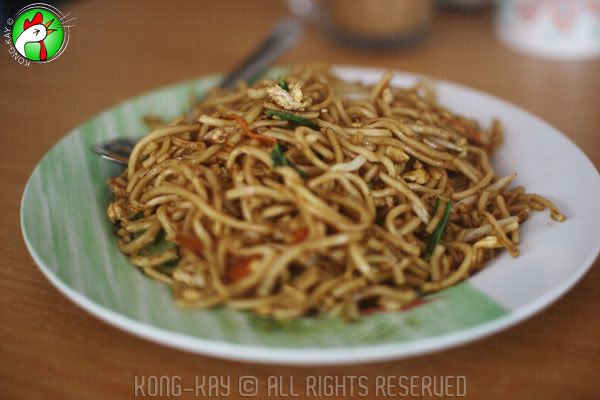 I drop by Wil's office after I'm done with my packing. I still have a couple of hours to kill before my flight home. There are a couple of coffee shops in the vicinity, and more of them sell the usual kampua. This one has a kitchen at the back, where all the food are prepared.
Wil suggests the beef noodle [below] while he has the fried Hokkien (thick yellow) noodle [above]. No sooner had my noodle arrived and I've taken the first bite than Alex starting bugging me for a verdict on the noodle, as if I'm some sort of food critic who will spill out some mumble jumble at the insert of a coin...
.
.. Ka-Ching! MADAM ZORA WHAT FUTURE HOLDS FOR THE BEEF NOODLE?
ZORA: B.b.b.z.z.z.z... B.b.b.z.z.z.z.z.z.z.... INSERT MORE COINS!
Pretty awful, I tell you. The noodle is like some half-cooked noodle, even though it has been poached to perfection in the cauldron. There is some saving grace in the broth, but the beef itself is unmemorable (Just like the terrible Korean Ramen I [forgetfully] keep buying at every sale, just because it's cheap, and keep giving them away in the end).
And you're right, Alex... that's why I never finish it!