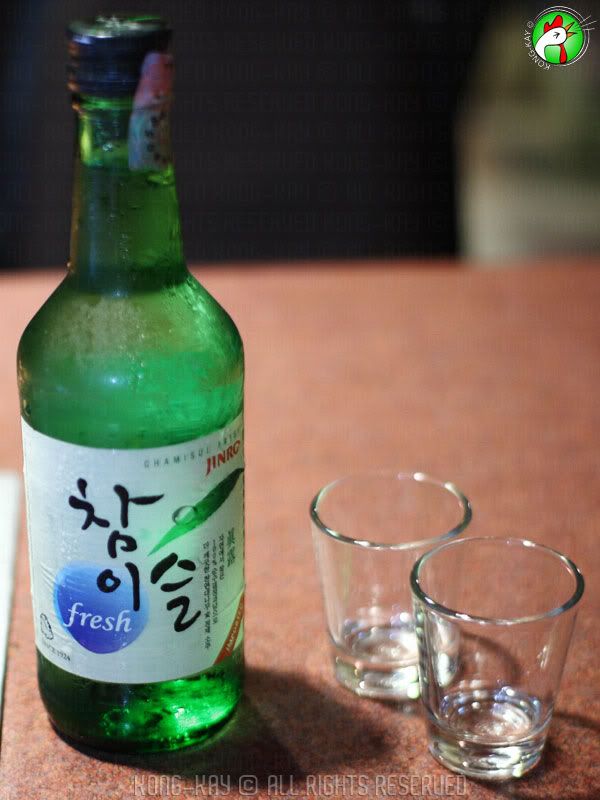 Ah Lee, my zi-char friend, mentions of a reasonably priced BBQ meat place at the kampung ever since I step into town; like the previous time, he's in his usual vagueness of the food the place serves. So when Wil has lunch at his place that day we decide on the evening's rendezvous at this so-called BBQ place..
This place is on the last block, beside the Paramount Hotel, the corner unit next to the Xazal Insurance agency. So finding the place is a no-brainer.
True, as "advertised" by Ah Lee, our meal for 3 persons is slightly over RM60. And the JINRO CHAMISUL FRESH SOJU (left) that Wil orders is another RM20; it's akin to saki and Chinese white wine, but not as sharp, with a 19.8% alcohol content. But still the bottle has to be Ta-Bao... what a bunch of wimps! Wil says that of all the Korean restaurants he has tried in Kuching, he hasn't found one to his liking. What's his take on this one?
Marinated Kelp And Kimchi
This is not a truly Korean restaurant perse... in this town, you need a fall-back plan in case plan A doesn't quite work out. Hence, the pseudo Korean/Japanese/Taiwanese fare in its menu. Let's see if you can pick out the differences of ethnicity in the photos.
We start off with a few plates of appetizers: Chilled Marinated Kelp, Kimchi and Braised Potatoes. They are all appetizing with a tint of sweetness in the sauce of the braised potatoes. A promising start to a meal.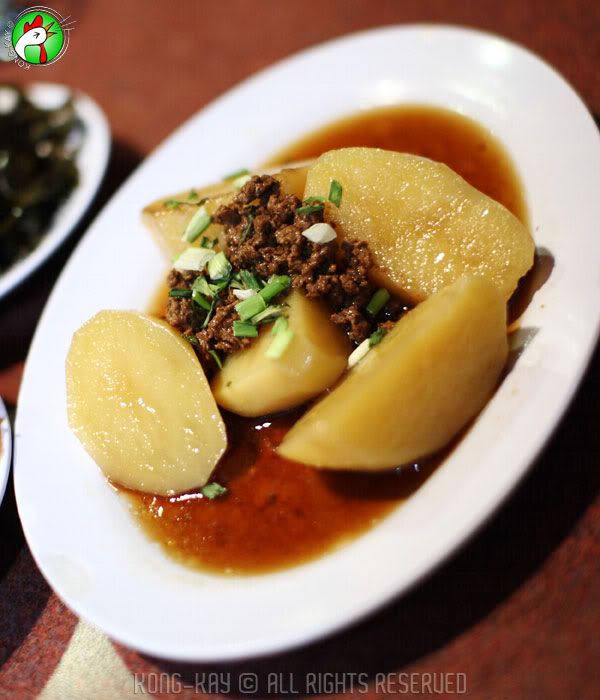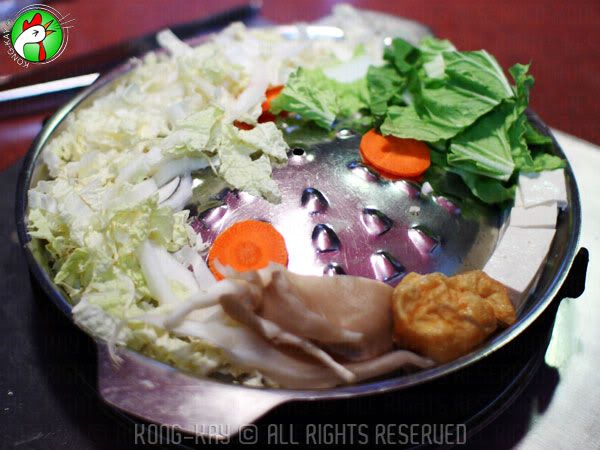 The Initial Mixed Veg. On The Grill.
Our entrée consists of the Korean BBQ, which is more half steamed, and half grilled. First off, the mixed vegetables are spread around the lit grill with pores. Then water is pour into the contraption to have both a steam and hot plate effect on whatever is cooked above it. Then our order of sliced beef and lamb are laid down. The juices of the meat flows liberally onto the vegetables to give it the added flavor. There is no oily stench normally associated with a grill plate BBQ. Oh yes, there is the dipping sauce for the cooked stuff to be given the once-over before they reach the mouth.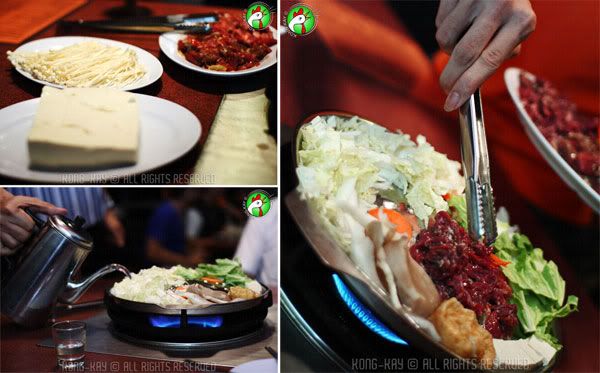 (

Anti-

C

lockwise) 1. Tofu, Mushrooms And Beef & lamb. 2. Water Poured Onto Grill. 3. Meat Added.
Fried Tanghoon (Glass Vermicelli) With Cabbage, Wood-Ear Fungus, Carrots and Green Onion
We have another two side orders of noodle and a stew. These dishes grow on you in a subtle way, and what is there not to like? In any event, Wil starts recommending it to Mary And Alex when we meet them later for drinks. So I guess it's a nod from Wil, and he finally finds a Korean to his liking... even though it's not authentic Korean. But then true Korean is not for everyone's taste buds; it takes a lot more coaxing to being loved, and it's never a love at first sight affair!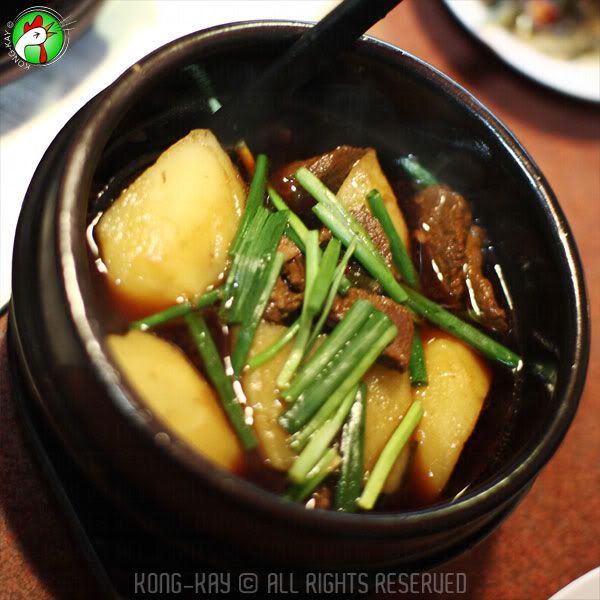 *Thanks to Mary for providing the address.