This is a fleeting stop-over to the capital, and as usual, nothing is stopping me from stealing 40 nibbles here and there. Oh boy, you should see my 4 month old tummy - a mini water melon in progress!
This particular hot spot is lifted from the papers by my sister. And as usual, it's through GPS assistance that she meanders her way to this place. And there's a parking space right in front of the so-called restaurant/coffee shop. And it's not too crowded on a Saturday morning. The little sign at the stall says Lorong Selamat Char Kuey Teow, whatever the significance in that we'll soon discover...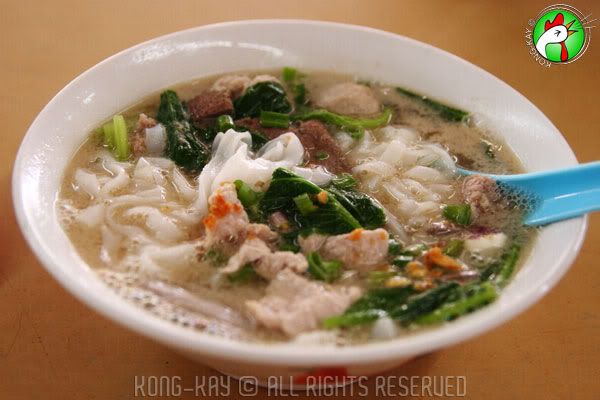 At the onset of our order, we've been pretty much forewarned by the man of the stall of the impeding long wait ahead of us. That's okay, as we take fancy on what the other stalls have to offer. Both the soup
koay teow
and the bitter gourd soup are good - nice soup especially the one with the gourd.
Fishball Bitter Gourd Soup
True to his words, our
koay teow
finally arrive 45 minutes later. And it's worth the wait! The frying bit is a slow and arduous affair; the man who takes the orders and does delivery, doubles up as the prep. guy as well. He scoops each portion of
koay teow
individually onto a plate, and loosens them before passing it to his wife, who does all the frying; and this is done right before the frying is done. Each plate of noodle is fried on its own - no bulk frying here! The result shows in the "seared-but-not quite" koay teow with the moist
C-Harm
(clams) plus the fragrance of the
Lap-Cheong
(Chinese sausage). The portion is small like it is in Penang, but the taste is all so right! No wonder everyone is sitting patiently, without a whimper for a shot of
Penangnirities

!