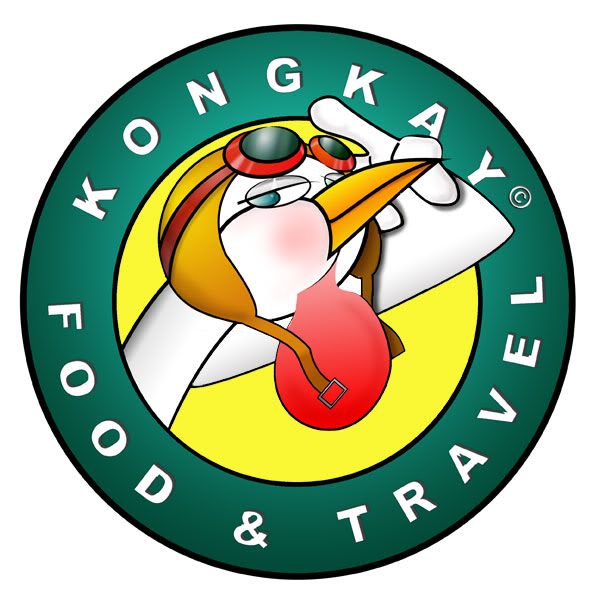 Having left the flora garden in the south of Chiang Mai, we head on north towards the Thai/Burmese/Laos border. We have mid-way camp down for the night at a so-called resort hotel in the midst of some farmland. This is not the Chaing Mai I imagine it to be - it's hot and humid. Whatever preconceived idea of a cool temperate setting this northern province of Thailand is shows how misinformed I've been (
Don't know much 'bout Geography
). In fact this trip is a last minute alteration as a result of Air Asia's change of Singapore's schedule. I've no idea where I'm heading or what to expect, I'll just have take it as it comes...
This is the second big meal of the day, which comes in the tour package, we have since arriving in Chiang Mai around nine in the morning. I'll save details of the first meal to a later date. Well, this is the third grub of the day. Firstly, it's a bit of a disappointment that we don't get a taste of Thai food as a welcome meal. Well, there's more of that where it's coming from.
The route to this restaurant feels a lot like Bali, where the lanes are narrow and restaurants can be located next to residential area on some desolated place. Out of the dimly lit street, lo and behold,
stands this bulb-lit outline of a Chinese roof. It looks grand on the exterior, but it seems we are having the restaurant all to ourselves. Is the protest in Bangkok having a ripple effect on the rest of the economy? It seems so, but there's hardly any tension in this part... all's quiet on the northern front.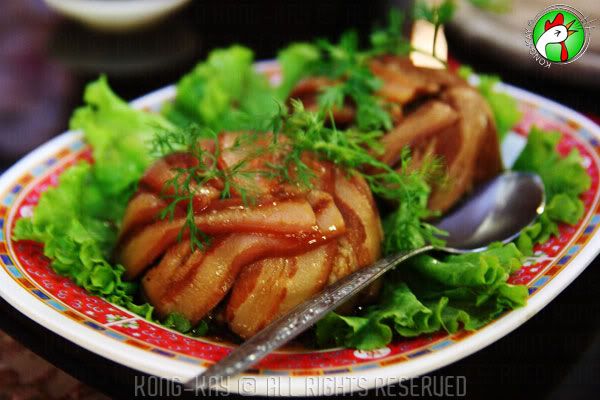 The meal starts with a bang of sort with the opener of fatty meat (above), then progress to the rough and tumble sausages and egg...
Mixed Sausage And Fish Paste Slices Salad
Scrambled Eggs With Minced Pork
... and finally Tom-Yam Soup? The coconut cream type.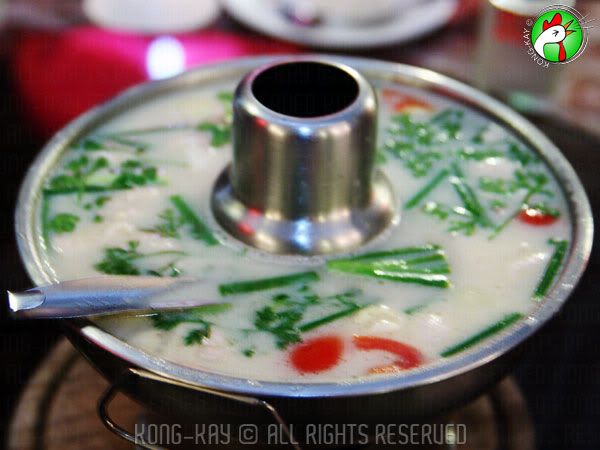 And it ends in a whimper of pond fish and garlic fried Water Convolvulus; even my camera's auto-focus refuses to function properly.