Cherry Tomato & Mozzarella With Balsamic Dressing
Is this a case of "'too much' is not enough"? Seems like it... this is my third visit, and the sixth within the family. I had called in to make a reservation for eight, 2 days prior to my flying into Sibu (the moment I landed, I was driven to this place for the dinner, barely arriving at the appointed time); I roughly indicated the the number of dishes required and preferences, and left the rest to the creative hands. And these were what they came up with:
I had the salad with ume sauce twice, thus I indicated a change. And also a move away from the creamy soup to a clear one; it had a medallion of chicken with tiny dices of daikon floating on its surface.


The risotto was a larger portion than the last time; morsels of shrimps and calamari abound.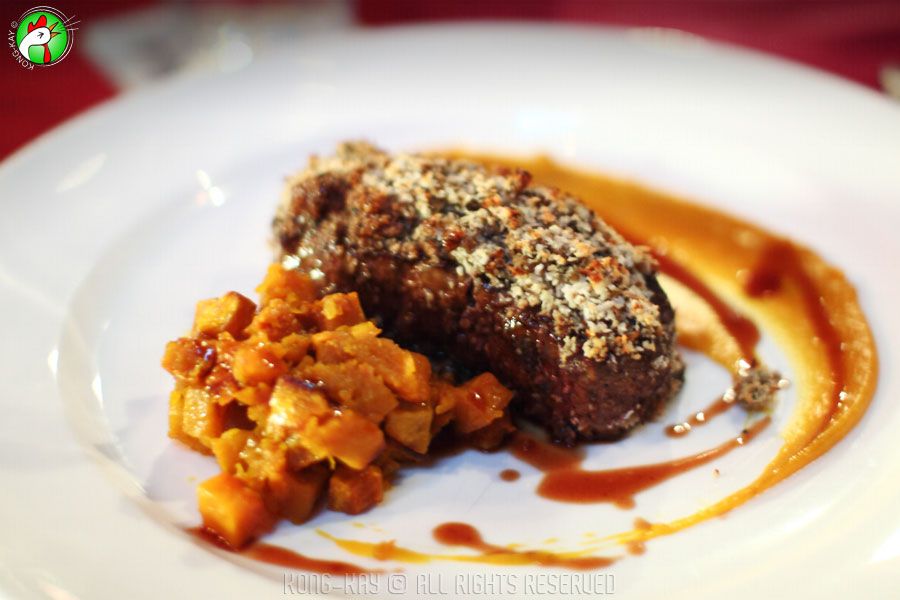 Oven Roast Mushroom Crusted Beef Steak Accompanied with Duo Pumpkin and Red Wine Sauce
For the mains, we had a choice of beef or lamb (I mentioned one doesn't take beef). Funnily, all the ladies chose lamb, while the rest had beef; all individually cooked to specified order.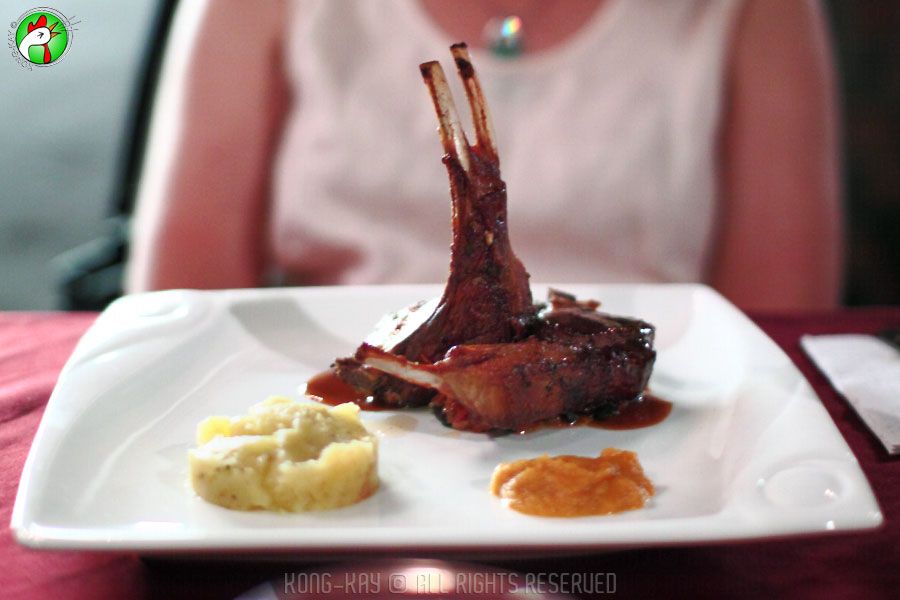 Pan Seared Rack Of Lamb Served With Carrot Puree, Crushed Potato, Olive and Confit Tomato and Spiced Lamb Jus
Lastly the bread pudding had custard beneath the bread, which was touched to a crisp. Due to the larger portion, we were stuffed; a smaller portion like the last time would suffice.
Of all the visits at this restaurant, frankly, I've not actually looked at its menu. I just assume they can deliver whatever I dictate (as if I own the place), and they have on most counts with sight adjustments. Given a few days to plan ahead, the duo haven't failed to live up to my expectation so far. Bear in mind, this small town doesn't have all the ingredients one would like to have at one's disposal; one has to make do with whatever there is at hand. So call in ahead the next time you plan a visit, and see what they can cook up for you.
Tel: (084)217127
HP: (016)8706944 [Richard]

(016)8706944 [Ryan]
Email: charcoalgrill_55@hotmail.com